April 05, 2022
Being Fruitful Worshippers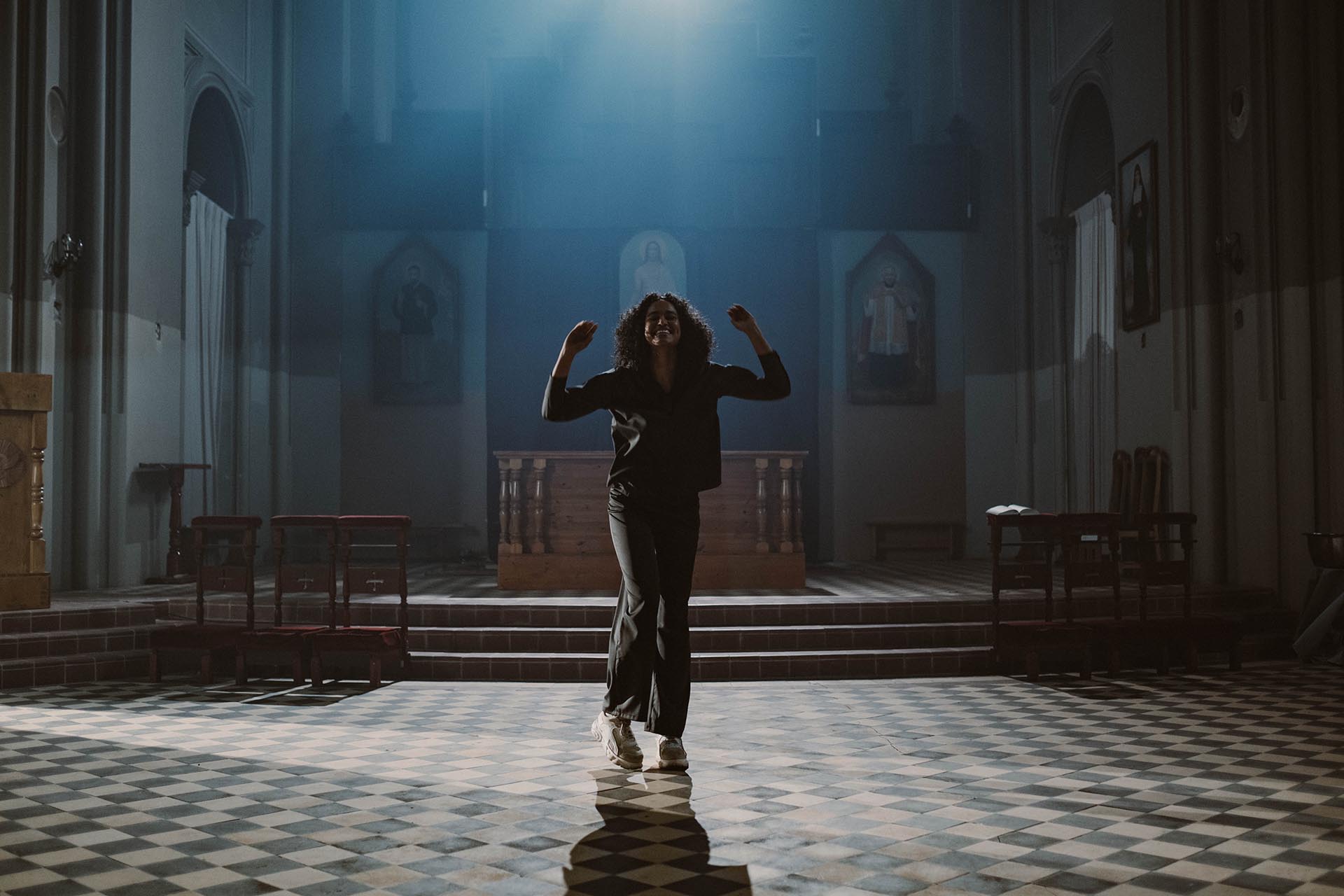 The Bible often uses the metaphor of fruit to describe the produce of our lives and He desires us to be fruitful in many areas including in our worship. However, good or bad fruit is a direct result of what is within us. As Jesus says in John 15:5, "I am the vine; you are the branches. If you remain in me and I in you, you will bear much fruit; apart from me you can do nothing".
Today, we will talk about being fruitful in our worship. To be fruitful in your worship, we must first and foremost be a worshipper.
Many times, before the worship team goes up on stage to lead the congregation to worship, I will remind them, "Be a worshipper" you cannot lead the people to worship unless you are a worshipper yourself.
Leading people to worship is such a privilege and responsibility. It is not about being a great musician or singer although playing and singing well, really helps. It's not about how skilled and great musicianship, or choosing a good selection of worship songs. Leading people to worship is about being a good worshipper. The better worshipper you are, the better your fruit of worship will be.
Many years ago, I was in a worship service and I felt distracted and didn't feel like worshiping. Music was good, everything was as it should be but I had a hard time entering into worship myself. During one of the worship songs, an older lady a few seats away from me caught my eye. She was totally engaged in singing, she lifted her hands, worshipping God in total abandonment. I couldn't help being captivated by her worship to God. As I sang along at the same time, observing her worshipping, my attention slowly shifted from her to God. I was encouraged and led to worship by a Worship leader who was not on stage but just seating a few seats from me. She was being a fruitful worshipper. Not knowing, the fruit of her being a worshipper had led me to be a worshipper.
The next time when you are in service, begin worshipping the Lord with all your heart, soul and mind and let the fruit of your worship bless, encourage and lead others to worship.
---
结出果实的敬拜者
圣经经常用果子的比喻来描述我们生命的果实,他希望我们在许多方面,包括在敬拜上结出果实。然而,好与坏都是我们内在直接结出的果实。耶稣在约翰福音 15:5上说:"我是葡萄树,你们是枝子。住在我里面的,我也住在他里面,他就结出很多果子;因为离开了我,你们就不能作什么。"
今天,我们谈谈在敬拜中结出果实。要在敬拜中结出果实,我们首先必须成为一个敬拜者。
很多时候,敬拜团队上台带领会众赞美敬拜之前,我都会提醒他们:"成为敬拜者"。除非你自己是一个敬拜者,否则你无法带领人敬拜。
带领人敬拜是一种特殊的权利和责任。它不关乎你是否是优秀音乐家或歌手,当然,乐器玩得好,歌唱得好,这确实有助于带领敬拜。然而,它也不关乎你是否拥有音乐才能或熟练的技巧,又或是选择美好的敬拜歌曲。带领人敬拜关乎的是你是否是一个好的敬拜者。好的敬拜者,结出好的敬拜果实。
许多年前,我参加了一场敬拜赞美聚会,当时我感到心烦意乱,没有真正敬拜。当时音乐氛围很好,和平常一样,但是我自己没办法进入敬拜的状态。在一首敬拜歌曲中,距离我不远的一位年长女士吸引了我的注意。她全心投入到唱诗敬拜中,举起双手,全心全意敬拜神。我情不自禁地被她对神的敬拜吸引住了。我观察她的敬拜,接着跟着唱诗歌赞美,我的注意力慢慢从她身上转移到神身上。一位不在台上,而是会众席上的敬拜主领鼓舞了我,并引导我一同敬拜。她是一个结果实的敬拜者。她作为敬拜者的果实引导我成为一个敬拜者。
下一次当你参加聚会时,全心全意地敬拜主,让你敬拜的果实祝福、鼓励并带领他人一同敬拜。
---
Menjadi Penyembah Berhasil
Alkitab sering menggunakan metafora buah bagi merujuk keberhasilan kehidupan kita dan Dia berhasrat kita berbuah dalam pelbagai sudut termasuk penyembahan kita. Bagaimanapun, baik buruknya buah berkait terus dengan apa yang ada di dalam kita. Seperti kata Yesus dalam Yohanes 15:5 "Akulah pokok anggur dan kamulah ranting-rantingnya. Barangsiapa tinggal di dalam Aku dan Aku di dalam dia, ia berbuah banyak, sebab di luar Aku kamu tidak dapat berbuat apa-apa".
Hari ini, kita akan bercakap tentang keberhasilan dalam penyembahan kita. Untuk berhasil dalam penyembahan kamu, kita terlebih dahulu mesti menjadi seorang penyembah.
Kerapkali, sebelum pasukan penyembah menaiki pentas untuk memimpin jemaat menyembah, saya akan mengingatkan mereka, "Jadi penyembah" kamu tidak mampu memimpin orang lain menyembah melainkan kamu sendiri menjadi penyembah.
Memimpin orang lain menyembah adalah satu keistimewaan dan tanggungjawab. Ianya bukan tentang menjadi pemuzik atau penyanyi hebat walaupun bermain dan menyanyi dengan baik sangat membantu. Ianya bukan sebaik mana kemahiran dan persembahan muzik yang hebat, atau memilih lagu-lagu penyembahan. Memimpin orang untuk menyembah adalah tentang menjadi penyembah yang baik. Bertambah baik kamu sebagai penyembah, bertambah baik keberhasilan penyembahan kamu.
Beberapa tahun yang lalu, semasa saya dalam satu kebaktian penyembahan saya rasa terganggu dan tidak tergerak untuk menyembah. Muziknya baik, semuanya berjalan seperti dirancang tetapi saya sukar untuk menyembah. Semasa dalam satu lagu penyembahan, seorang wanita yang lebih tua yang duduk tidak jauh dari saya menarik perhatian saya. Dia menyanyi dengan penuh kesungguhan, mengangkat tangan, asyik dalam menyembah Tuhan. Saya tidak dapat mengelak daripada keasyikannya menyembah Tuhan. Melihat penyembahannya, sambil saya menyanyi perhatian saya mulai berpaling kepada Tuhan. Saya terangkat dan digalak menyembah melalui kepimpinan penyembah bukan di atas pentas tetapi berdekatan dengan saya. Dia penyembah yang berhasil. Tanpa disedari, hasil daripada penyembahannya telah mendorong saya menjadi seorang penyembah.
Semasa kamu dalam berada dalam kebaktian kemudian hari, mulai menyembah Tuhan dengan segenap hati, jiwa dan minda dan benarkan keberhasilan penyembahan kamu memberkati, menggalak dan memimpin orang lain untuk menyembah.