September 27, 2023
Compelled by Grace
God's love motivates us, His grace causes us to go beyond our natural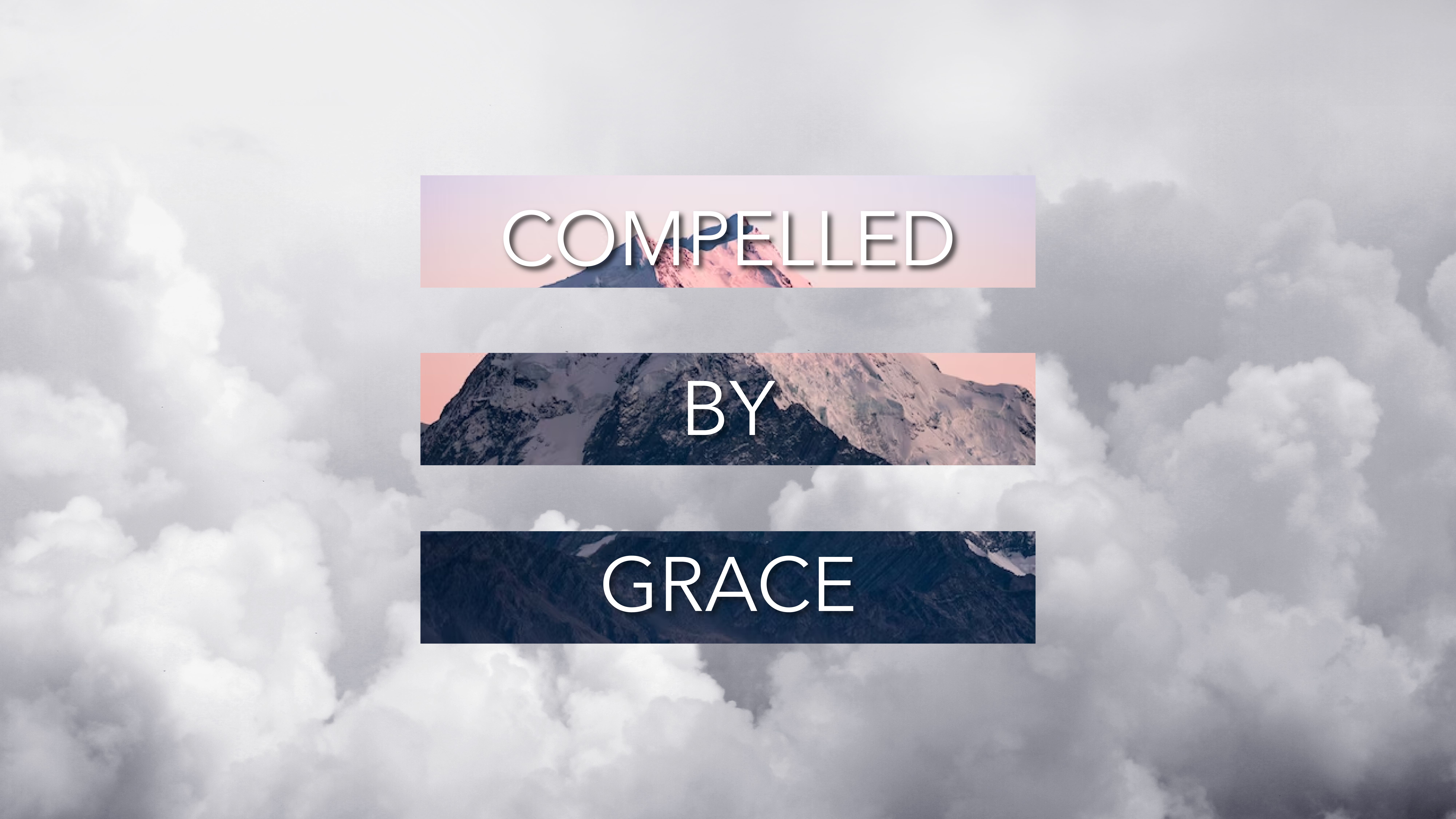 As he neared the end of his life, the Apostle Paul travelled extensively saying goodbye to the people that he loved. He didn't know how much time he had, so he spoke what was on his heart. To the elders of the Ephesian church (a church he loved very much), Paul said:
"However, I consider my life worth nothing to me; my only aim is to finish the race and complete the task the Lord Jesus has given me – the task of testifying to the good news of God's grace". (Acts 20:24)
As Christians, it is unfortunate that we are sometimes more prone to point out the lack, or the mistakes than to come alongside an individual, nation, or people group and say, "Hey, this must be tough for you – I know there must be a lot of different kinds of conflict you are struggling with. But I want you to know God loves you, and God wants to help you."
How easy it is for us to be prejudiced and immediately shove people into little boxes – "This one can be saved, that one cannot be saved" or "This one God loves, that one God doesn't love." Who says God doesn't love them? Who says God doesn't care for them? Certainly not the Bible! We read in John 3:16, "For God so loved the world that He gave His only begotten Son, that whoever believes in Him shall not perish but have everlasting life."
Now, this is not to say we condone sin – we'll never condone sin because God is a holy God. We cannot condone, but it is not our business to condemn. We are not called to condemn politicians, nations, lifestyles, or decisions, though we cannot condone their actions. But we know that God wants every single one of them to hear the good news of the grace of God can change even them.
In John 3:17 we read, "For God did not send His Son into the world to condemn the world, but that the world through Him might be saved. And as Andy Stanley remarks, "Grace acknowledges the full implication of sin and yet does not condemn. Grace convicts." This is very beautifully illustrated in the story of how Jesus saved the woman caught in adultery. She had broken the Law and a mob of holier-than-thou people dragged her in front of Jesus to be stoned. Jesus didn't argue, He just began to write in the sand. One by one, the accusers left, not because Jesus had corrected or chided them, but because Jesus' graciousness had convicted them – they realised they were sinners and had no right to condemn the woman.
So, what is grace? In order for us to understand what grace is, we need to look at grace in the context of two other words – justice, and mercy. "Justice" is getting what we deserve; "Mercy" is not getting what we deserve; "Grace" is getting what we don't deserve.
God is a God of justice and because of that, when we get punished, we are getting what we deserve. But if we turn to Him, accept that we are wrong, and we repent, mercy is shown to us. We end up not getting what we deserve because of God's forgiveness.
But God goes beyond justice and mercy in responding to our human inclinations, a state of His grace where God gives us what we really do not deserve - His continual Presence in our lives, His continually picking us up from where we have failed, continually saying, "Press on! Press on!"
Has God always been a God of grace? What about in the Old Testament where He commanded that everybody in Canaan be killed? Reading the Bible carefully, we find that the people who lived in Canaan were extremely wicked – their manner of religious rituals involved child sacrifice, they were immoral. God sending His army to conquer them was simply executing punishment on a group of people whom He had given a long time to repent but who had not – it was not genocide, it was a nation reaping the consequences of their sin.
So how does all this relate to us today? Grace must be proclaimed through us by the Spirit. Grace is the precursor of faith, hope, and love. Without grace, we would never have been saved, "…while we were still sinners, Christ died for us." (Romans 5:8)
Jesus personified grace. If we want to know what grace looks like, we only have to look at His life – Jesus lived by grace, and died by grace. As Believers, we too should have the mind of Christ to think graciously, have the attitude of Christ to respond graciously, and by His power, live (and die) graciously. As people of grace, we first demonstrate the grace of God, and share His love.

---
恩典驱使
使徒保罗接近生命尽头时,走遍各地向他所爱的人告别。他不知道自己还能活多久,因此他说出了心里话。保罗对以弗所教会(他非常爱的教会)的长老说:
"但我并不珍惜自己的性命,只求跑完我的路程,完成我从主耶稣所领受的职分,为神恩惠的福音作见证。"(使徒行传20:24)
很不幸的,作为基督徒,我们有时倾向于指出别人的不足或错误,而不是与个体、国家,或群众同行并对他们说:"嗯,辛苦了,你应该正面对许多困难和挣扎吧?但我要你知道,神爱你,他愿意帮助你。"
我们很容易产生偏见,还直接胡乱把人归类 ——"这人有救,那人无可救药"或"神爱他,神不爱他"。是谁说神不爱他们?又是谁说神不关心他们?肯定不是圣经!我们在约翰福音3:16读到:"神爱世人,甚至将他的独生子赐给他们,叫一切信祂的不致灭亡,反得永生。"
我们并非纵容罪恶——我们绝不纵容罪恶,因为神是圣洁的神。我们既不纵容,却也没有定罪的权力。尽管我们不纵容他人的行为,我们蒙召也不是要来定政治人物、国家、生活方式或任何决策的罪的。我们知道神希望每个人都能听到好消息——神的恩典能改变人,包括他们。
我们在约翰福音3:17读到:"因为神差他的儿子到世上来,不是要定世人的罪,而是要使世人借着他得救。"正如安迪·斯坦利所言:"恩典是纵然知道一切罪恶的后果,却不定罪。恩典使人信服。" 耶稣拯救犯奸淫的妇人,这个事件完美地诠释了这一点。她违反了律法,一群自以为是的人把她拖到耶稣面前要用石头砸死她。耶稣没有争论,只是开始在地上写字。后来,控告者一个接一个地离开了,不是因为耶稣纠正或责备了他们,而是因为耶稣的慈爱使他们信服——他们意识到自己是罪人,没有权利定那个妇人的罪。
那么,什么是恩典?要了解什么是恩典,我们要将恩典放在两个词——公义和怜悯——的语境上来看。"公义"是得到我们应得的;"怜悯"是没有得到我们应得的;而"恩典"是得到我们所不配的。
神是公义的神,当我们承受惩罚时,我们是咎由自取,本应受处罚。但如果我们回转向祂,承认自己的错误并悔改,神就怜悯我们。最终,我们免受惩罚,是因为神宽恕我们。
然而,神越过了公义和怜悯,以恩典回应我们的人性,他赐给我们的是我们不配得到的——他一直在我们生命中不停地扶持我们,不断地说:"坚持下去!坚持下去!"
神一直都是恩典的神吗?在旧约圣经中,他命令屠杀所有迦南人又是怎么一回事?仔细阅读圣经就会发现住在迦南的人极其邪恶——他们的宗教仪式包括以儿童为祭,道德极为败坏。神派遣他的军队歼灭他们,只是在处决一群他已经长时间给予机会却依然执迷不悟,不愿悔改的人——这不是种族灭绝,而是那个国家在自食其果。
那么,这些和我们有什么关联呢?圣灵要透过我们来宣扬恩典。恩典是信、望和爱的先导。没有恩典,我们永远不会得救,"唯有基督在我们还作罪人的时候为我们死……"(罗马书5:8)
耶稣是恩典的化身。如果我们想知道恩典是什么样子的,只要看看他的生命——耶稣因恩典而生,也因恩典而死。作为信徒,我们应该像基督一样以慈爱的心思考,像基督一样以慈爱的态度回应,并靠着他的大能慈爱地活着(和死去)。作为蒙恩的人,我们首先要彰显神的恩典,分享他的爱。

---
Didesak Kasih Karunia
Ketika menghampiri akhir hayatnya, Rasul Paulus mengembara secara meluas mengucapkan selamat tinggal kepada mereka yang beliau kasihi. Beliau tidak tahu berapa banyak masa yang tinggal, jadi beliau meluahkan sahaja, apa yang terhasrat dalam hatinya. Kepada para penatua jemaat Efesus (gereja yang amat dikasihinya), Paulus berkata:
"Tetapi aku tidak menghiraukan nyawaku sedikit pun, asal saja aku dapat mencapai garis akhir dan menyelesaikan pelayanan yang ditugaskan oleh Tuhan Yesus kepadaku untuk memberi kesaksian tentang Injil kasih karunia Tuhan." (Kisah Para Rasul 20:24)
Sebagai umat Kristian, malangnya kita kadang-kala lebih cenderung membangkitkan kekurangan, atau kesilapan berbanding dengan aksi menghampiri individu, negara, atau golongan orang dan berkata, "Hai, ini pasti sukar untuk kamu – saya faham kamu pasti diduga pelbagai konflik. Tetapi saya ingin kamu tahu, Tuhan mengasihi kamu, dan Tuhan mahu membantu kamu."
Betapa senangnya kita berprasangka dan segera membuat penghakiman dan mengatakan – "Yang ini boleh diselamatkan, yang itu tidak boleh diselamatkan" atau "Yang ini dikasihi Tuhan, yang itu Tuhan tidak kasihi." Siapa kata Tuhan tidak mengasihi mereka? Siapa kata Tuhan tidak mempedulikan mereka? Sudah tentu bukan Alkitab! Kita membaca dalam Yohanes 3:16, "Karena begitu besar kasih Tuhan akan dunia ini, sehingga Ia telah mengaruniakan Anak-Nya yang tunggal, supaya setiap orang yang percaya kepada-Nya tidak binasa, melainkan beroleh hidup yang kekal. "
Ini bukan bermaksud kita membenarkan dosa – kita tidak akan sekali-kali boleh membenarkan dosa kerana Tuhan adalah Tuhan yang kudus. Kita tidak boleh membenarkan dosa, tetapi bukan hak kita untuk mengutuk. Kita tidak diseru mengutuk mana-mana ahli politik, negara, gaya hidup, atau keputusan, walaupun kita tidak boleh membenarkan tindakan mereka. Tetapi kita tahu bahawa Tuhan mahu setiap seorang daripada mereka mendengar berita baik bahawa kasih karunia Tuhan mampu juga mengubah mereka.
Dalam Yohanes 3:17 kita membaca, "Sebab Tuhan mengutus Anak-Nya ke dalam dunia bukan untuk menghakimi dunia, melainkan untuk menyelamatkannya oleh Dia." Bak kata Andy Stanley, "Kasih karunia mengakui implikasi penuh dosa tetapi tidak mengutuk. Kasih karunia menginsafkan." Ini digambarkan dengan indah melalui kisah bagaimana Yesus menyelamatkan wanita yang ditangkap berzina. Dia telah melanggar Hukum dan gerombolan orang yang menganggap diri mereka lebih suci menyeretnya ke hadapan Yesus untuk direjam. Yesus tidak membantah, Dia hanya mula menulis di pasir. Satu demi satu, para penuduh pergi, bukan kerana Yesus membetulkan atau menegur mereka, tetapi kerana kemurahan hati Yesus menginsafkan mereka – masing-masing sedar bahawa mereka juga pendosa dan tidak berhak mengutuk wanita tersebut.
Jadi, apa itu kasih karunia? Untuk kita memahami kasih karunia, kita perlu melihatnya dalam konteks dua perkataan lain – keadilan, dan belas kasihan. "Keadilan" adalah mendapat balasan yang patut kita terima; "Belas Kasihan" adalah tidak mendapat balasan yang patut kita terima; "Kasih Karunia" adalah mendapat balasan yang tidak layak kita terima.
Tuhan adalah Tuhan yang adil dan oleh itu, bila kita dihukum, kita mendapat balasan yang patut. Tetapi jika kita berpaling kepada-Nya, mengaku salah dan bertaubat, belas kasihan dihulurkan kepada kita. Akhirnya, kita tidak mendapat balasan buruk sebagaimana yang patut oleh kerana pengampunan Tuhan.
Tetapi Tuhan melampaui keadilan dan belas kasihan dalam menanggapi kecenderungan manusia, keadaan kasih karunia-Nya apabila Tuhan menganugerahkan kepada kita apa yang sebenarnya kita tidak layak terima – Kehadiran-Nya yang berterusan dalam hidup kita, Dia mengangkat kita setiap kali kita gagal, senantiasa mendorong, dan mengatakan "Teruskan! Teruskan!"
Adakah Tuhan sentiasa Tuhan penuh dengan kasih karunia? Bagaimana pula dalam Perjanjian Lama ketika Dia memerintahkan agar semua orang di Kanaan dibunuh? Membaca Alkitab dengan teliti, kita mendapati bahawa penghuni Kanaan sangat zalim – upacara keagamaan mereka melibatkan pengorbanan kanak-kanak, mereka tidak bermoral. Tuhan menghantar angkatan tentera-Nya menakluki mereka hanyalah untuk melaksanakan hukuman ke atas segolongan orang yang telah diberikan-Nya masa yang lama untuk bertaubat tetapi enggan berbuat demikian – ianya bukan penghapusan bangsa tetapi sebuah negara yang menuai akibat dosa mereka sendiri.
Bagaimanakah ini semua berkaitan dengan kita hari ini? Kasih karunia harus diisytiharkan menerusi kita oleh Roh. Kasih karunia adalah pendahulu iman, harapan, dan kasih sayang. Tanpa kasih karunia, kita tidak akan diselamatkan, "…oleh karena Kristus telah mati untuk kita, ketika kita masih berdosa." (Roma 5:8)
Yesus mempersonifikasi kasih karunia. Jikalau kita ingin mengetahui rupa kasih karunia, kita hanya perlu melihat kehidupan-Nya – Yesus hidup dengan kasih karunia, dan mati dengan kasih karunia. Sebagai umat Kristian, kita juga harus memiliki minda Kristus agar memikir dengan penuh kasih karunia, memiliki sikap Kristus untuk membalas dengan penuh kasih karunia, dan melalui kuasa-Nya, hidup (dan mati) dengan penuh kasih karunia. Sebagai umat berkasih karunia, kita terdahulu menunjukkan kasih karunia Tuhan, dan seterusnya berkongsi kasih-Nya.