October 07, 2022
Drawing Near to God through fasting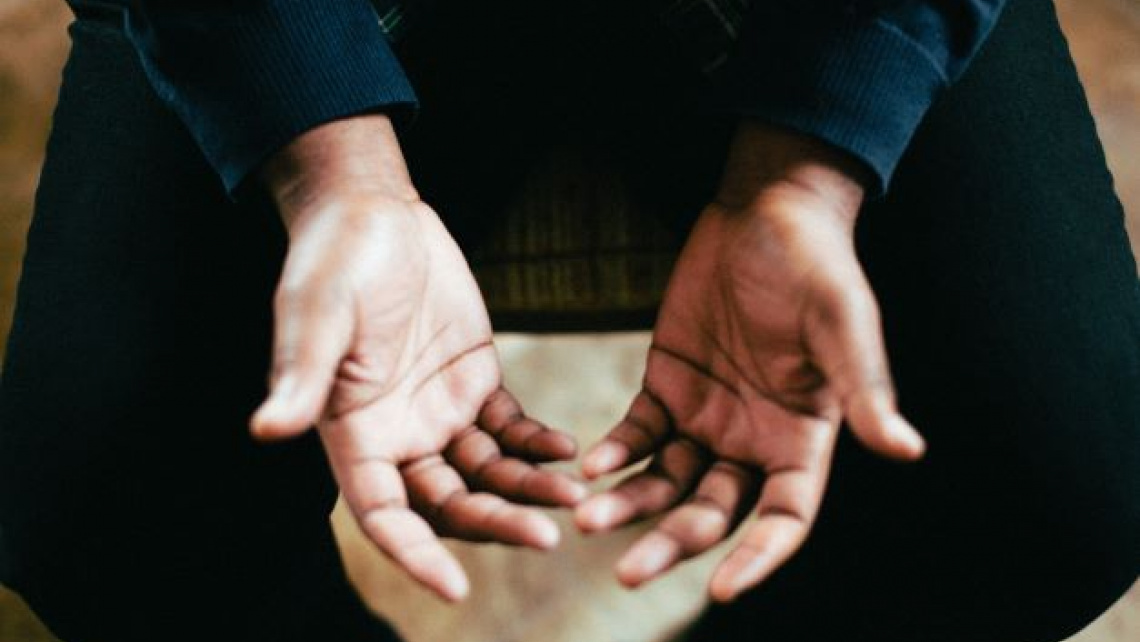 Come near to God, and he will come near to you. Clean up your lives, you sinners. Purify your hearts, you people who can't make up your mind. (James 4:8 CEV)
Can you hear God asking you to come near to Him?
If you are to take one step towards God the Father, He will come running towards you! In the story of the prodigal son, the father asked his servants to clean him, and put on new clothing for him.
How to come near to God?
James asks us to:
1) Make up your mind
2) Purify your hearts
By combining fasting with prayer.
Many times, we pray but we cannot 'hear' God answer our prayers.
We desire it and long for it, but we do not know what to do about it.
Have you tried combining prayer with fasting?
The Bible gives examples of God's people combining fasting with prayers so as to stir up their zeal, renew their dedication and make a firm commitment to Him.
King David experienced God and the joy of the Lord when he fasted.

In Psalm 35:8-14 you will read about King David's experience of hurt, disappointment, and pain from mental, emotional, and physical oppression.

When he fasted and prayed, King David:
● Experienced God, and
● Experienced great joy when he was delivered from great emotional, mental and physical pain and sorrow.
In drawing near to God during our fast, we have to have a heart of humility, honesty, and reverence like King David.

In Psalm 51, as David sings to the Lord, he confessed his sins, for which he had nothing to hide. David did not blame anyone for his mistake and did not attempt to excuse his actions. David displayed absolute humility and depth of sorrow over his sin. David could only appeal to God's mercy and love, knowing that he could be forgiven. David accepted the judgment as from the Lord and depended only upon God's mercy and grace.

King David experienced personal revival when he came before God with a broken, repentant, and contrite spirit.
There is special power when combining fasting with prayer.
In Exodus 34, Moses was on Mount Sinai with the Lord for 40 days and 40 nights. He did not eat any food or drink any water. The Lord wrote the Ten Commandments on the tablets.
Why did Moses go without food and water?
Was it that, Moses prepared his heart to hear from God?
Was it that, Moses was humbled before the presence of the great and awesome God?
Was it that, Moses was so caught up in the presence of God that he forsook food?
Or was it that, God prepared Moses to deal with the recalcitrant Israelites?
There is a special power in fasting when combined with prayer and faith.
God chooses to do through fasting and prayer what prayer alone will not.
Then the disciples came to Jesus privately and said, "Why could we not cast it out?" So Jesus said to them, "Because of your unbelief; for assuredly, I say to you, if you have faith as a mustard seed, you will say to this mountain, 'Move from here to there,' and it will move; and nothing will be impossible for you. However, this kind does not go out except by prayer and fasting." (Matthew 17:19-21 NKJV)
Come near to God, and he will come near to you. (James 4:8 CEV)
---
藉禁食亲近神
你们应当亲近神,神就亲近你们。罪人啊,要洁净你们的手;三心两意的人哪,要清洁你们的心。雅各书 4:8(新译本)
你听见神叫你亲近他吗?
你若向父神迈进一步,他必向你奔跑过来。
浪子回头的故事里,父亲吩咐仆人替他清洗,为他穿上新衣服。
如何亲近神?
雅各叫我们要:
1) 下定决心
2) 清洁你们的心
将禁食与祷告联系在一起
很多时候我们祷告,却听不见神回应祷告。
我们渴望神回应,可是不知道该怎么做。
你尝试禁食祷告了吗?
圣经上的例子,神子民禁食祷告以激发他们对神热心,更新奉献的心志,及对神坚定委身。
大卫王禁食经历神,感受与主同在的喜乐

诗篇 35:8-14你读到大卫王经历伤害和失望,承受精神、情感和身体压迫带来的痛楚。

当大卫王禁食祷告,他
● 经历神
● 从情感、精神和身体的伤痛中被解救出来,他欢喜快乐。
当我们禁食亲近神时,要像大卫王那样有一颗谦卑、诚实并敬畏神的心。

诗篇51,大卫向神歌唱,他承认自己的过犯,没有隐瞒。大卫不因自己的过犯怪罪任何人,不试图遮掩自己的过犯。他深切认罪痛悔。大卫只求神以怜悯和慈爱恩待他,相信神必涂抹他的过犯。大卫接受耶和华公义的审判,并紧紧依靠神的怜悯与恩典。

大卫王带着破碎痛悔的灵来到神面前,他经历个人复兴。
禁食与祷告联系在一起是有特殊的能力
出埃及记 34,摩西和耶和华在西奈山上共处了四十昼夜。他不吃饭,也不喝水。耶和华在石板上写下十条诫命。
为什么摩西不吃饭,也不喝水?
是因为,摩西预备心要聆听神的话语?
是因为,摩西在伟大令人敬畏的神面前谦卑自己?
是因为,摩西被神同在的荣光吸引进而忘食?
还是因为,神为了预备摩西以应对顽固的以色列人?
禁食与祷告和信心联系在一起是有特殊的能力
神透过禁食与祷告行单单祷告所不能行的事。
门徒暗暗地到耶稣跟前,说:"我们为什么不能赶出那鬼呢?"耶稣说:"是因你们的信心小。我实在告诉你们,你们若有信心,像一粒芥菜种,就是对这座山说:'你从这边挪到那边',它也必挪去;并且你们没有一件不能做的事了。至于这一类的鬼,若不祷告、禁食,他就不出来。" 马太福音 17:19-21(新标点和合本)
你们应当亲近神,神就亲近你们。雅各书 4:8(新译本)
---
Mendekat Kepada Tuhan Melalui Puasa
Mendekatlah kepada Tuhan, dan Ia akan mendekat kepadamu. Tahirkanlah tanganmu, hai kamu orang-orang berdosa! dan sucikanlah hatimu, hai kamu yang mendua hati! (Yakobus 4:8)
Dapatkah kamu mendengar Tuhan meminta kamu untuk mendekat kepadaNya?
Jika kamu ingin mengambil satu langkah menuju kepada Tuhan Bapa, Dia akan berlari ke arah kamu!
Dalam kisah anak yang hilang, bapa meminta pelayannya untuk membersihkannya, dan mengenakan pakaian baru untuknya.
Bagaimana caranya mendekati Tuhan?
Yakobus meminta kita untuk:
1) Tentukan pilihanmu
2) Sucikan hatimu
Dengan menggabungkan puasa dengan doa
Sering kali, kita berdoa tetapi kita tidak dapat 'mendengar' Tuhan menjawab doa-doa kita. Kita menginginkannya dan merindukannya, tetapi kita tidak tahu apa yang harus kita lakukan.
Pernahkah kamu mencuba untuk menggabungkan doa dengan puasa?
Alkitab memberikan contoh tentang umat Tuhan yang menggabungkan puasa dengan doa untuk membangkitkan semangat mereka, memperbaharui dedikasi mereka dan membuat komitmen yang teguh kepadaNya.
Raja Daud mengalami Tuhan dan sukacita Tuhan ketika dia berpuasa

Dalam Mazmur 35:8-14 kamu akan membaca tentang pengalaman Raja Daud yang terluka, kecewa, dan sakit kerana tekanan mental, emosi, dan fizikal.

Ketika dia berpuasa dan berdoa, Raja Daud:
• Mengalami Tuhan, dan
• Mengalami sukacita yang luar biasa ketika dia dibebaskan dari kesedihan dan kesakitan emosi, mental dan fizikal yang besar.
Dalam mendekatkan diri kepada Tuhan semasa berpuasa, kita harus memiliki hati yang rendah hati, jujur, dan hormat seperti Raja Daud

Dalam Mazmur 51, saat Daud bernyanyi kepada Tuhan, dia mengakui dosa-dosanya, yang tidak dia sembunyikan. Daud tidak menyalahkan sesiapapun atas kesalahannya dan tidak berusaha untuk memaafkan tindakannya. Daud menunjukkan kerendahan hati yang mutlak dan kesedihan yang mendalam atas dosanya. Daud hanya dapat memohon belas kasihan dan kasih Tuhan, mengetahui bahawa dia dapat diampuni. Daud menerima penghakiman seadanya daripada Tuhan dan hanya bergantung pada belas kasihan dan kasih karunia Tuhan.

Raja Daud mengalami pembangunan rohani secara peribadi ketika dia datang ke hadapan Tuhan dengan roh yang hancur, bertaubat, dan menyesal.
Ada kekuatan khusus ketika menggabungkan puasa dengan doa
Dalam Keluaran 34, Musa berada di Gunung Sinai bersama Tuhan selama 40 hari 40 malam. Dia tidak makan apa-apa makanan maupun minuman. Tuhan menulis Sepuluh Perintah pada loh-loh batu itu.
Mengapa Musa tidak makan dan minum?
Adakah kerana, Musa mempersiapkan hatinya untuk mendengar dari Tuhan?
Adakah kerana, Musa direndahkan di hadapan hadirat Tuhan yang besar dan agung?
Adakah kerana Musa begitu asyik dalam hadirat Tuhan sehingga dia tidak makan?
Ataukah, Tuhan mempersiapkan Musa untuk menghadapi bangsa Israel yang degil?
Ada kekuatan khusus dalam puasa jika digabungkan dengan doa dan iman.

Tuhan memilih untuk melakukan melalui puasa dan doa bagi apa yang tidak dapat dilakukan oleh doa saja.
Kemudian murid-murid Yesus datang dan ketika mereka sendirian dengan Dia, bertanyalah mereka: "Mengapa kami tidak dapat mengusir setan itu?" Ia berkata kepada mereka: "Karena kamu kurang percaya. Sebab Aku berkata kepadamu: Sesungguhnya sekiranya kamu mempunyai iman sebesar biji sesawi saja kamu dapat berkata kepada gunung ini: Pindah dari tempat ini ke sana, maka gunung ini akan pindah, dan takkan ada yang mustahil bagimu. Jenis ini tidak dapat diusir kecuali dengan berdoa dan berpuasa." (Matius 17:19-21)
Mendekatlah kepada Tuhan, dan Ia akan mendekat kepadamu. (Yakobus 4:8)