February 01, 2021
HAVE FAITH IN GOD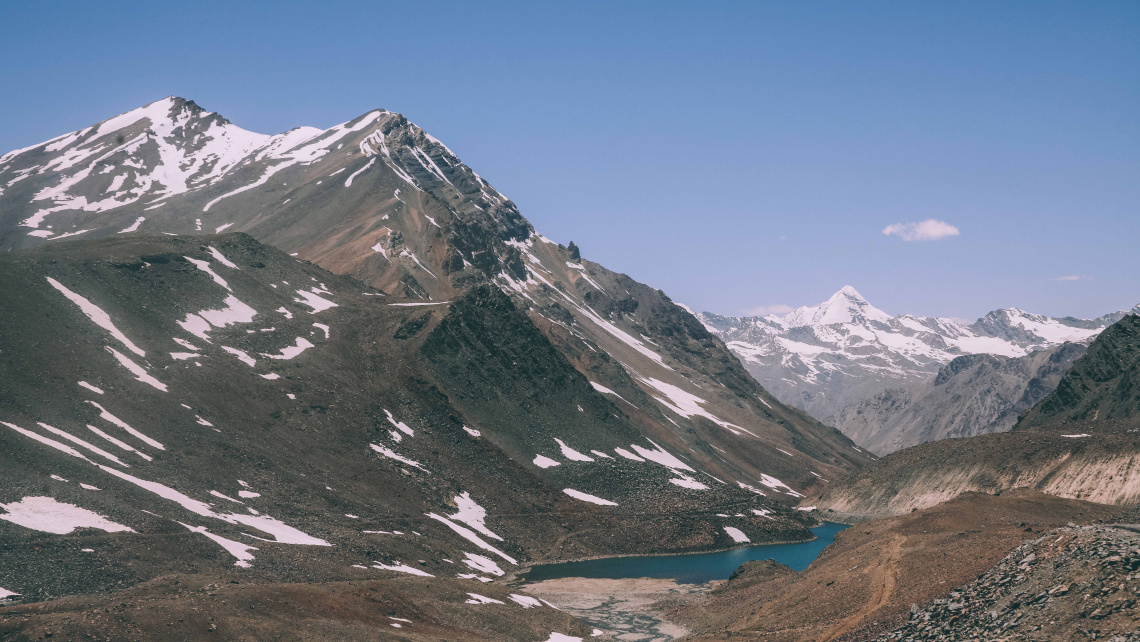 Man was created to have faith in God. However, because of Adam and Eve's sin of disobedience, man started to doubt God's promises, will and purpose for man. Sin brought fear, doubt and unbelief and severed man's relationship and fellowship with God. A Christian must have faith in God.
Jesus came to restore what man lost out with God. Jesus was speaking to His disciples when He said, "Have faith in God." The Bible says, "The righteous will live by faith" (Romans 1:17, NIV). The righteous are the children of God, cleansed by the blood of Jesus.
WHY HAVE FAITH IN GOD?
There are three reasons why we place our faith in God:
1. God is the Creator.
God is Almighty. He created the human race and the world. Therefore, there is nothing He cannot do for us (Genesis 1).
2. God has the power and authority over the one who can hurt and destroy you.
Satan, our arch enemy, can rob us of our joy, peace, hope and a meaningful life. The Bible tells us that one day, Jesus went to the region of Gerasenes and met a demon-possessed man who wore no clothes and lived in the tombs. Jesus set him free by rebuking and casting out the demons that tormented him (Luke 8:26-35). Jesus gives power to His disciples over demons (Luke 9:1). In the book of Revelation, it says that God has power to cast Satan and his false prophets into the lake of fire and put an end to their evil ways and afflictions upon the human race once and for all (Revelation 20:10, NIV). Therefore, have faith in God!
3. God loves us.
The Bible says, "Greater love has no one than this, than to lay down one's life for his friends" (John 15:13). His love is an everlasting love and His arms are outstretched ready to embrace and forgive us if we come to Him by faith and repent of our mistakes. You can "cast all your anxiety on him because he cares for you" (1 Peter 5:7, NIV), And, "God so loved the world that he gave his one and only Son, that whoever believes in him shall not perish but have eternal life" (John 3:16, NIV). If we sin and "if we confess our sins, He is faithful and just to forgive our sins and to cleanse us from all unrighteousness" (1 John 1:9).
HOW TO EXPRESS FAITH IN GOD?
There are three ways we can do this:
1. Speak your faith.
Speak things that edify and give hope instead of speaking our fears, doubts, hurts and acting negatively. Jesus said, "I tell you the truth, if anyone says to this mountain, 'Go, throw yourself into the sea,' and does not doubt in his heart but believes what he says will happen, it will be done for him" (Mark 11:23, NIV). We can speak in faith of God's power to do the impossible.
God spoke the world into existence. The Bible says, "And God said, 'Let there be light and there was light" (Genesis 1:3). He also "calls those things which do not exist as though they did" (Romans 4:17). Jesus spoke healing to the deaf, the dumb, the blind and the sick. Jesus said to the paralytic, "'Get up, take your mat and go home.' And the man got up and went home" (Matthew 9:6-7, NIV). The prodigal son, after squandering his wealth in wild living, came to his senses in the pigs' pen. He said to himself, "I will arise and go to my father, and I will say to him, 'Father, I have sinned against heaven and against you. I am no longer worthy to be called your son; make me like one of your hired men" (Luke 15:18-19). He then got up and went to his father. He spoke his faith and acted upon it and was restored as a son. The woman with the issue of blood for twelve years also spoke her faith when she said to herself, "If I only touch His cloak, I will be healed" (Matthew 9:21, NIV). Therefore, we need to speak our faith, put it into action and we will experience God's power and miracles in our life. Believe in your heart and confess with your mouth. Paul teaches, "That if you confess with your mouth, 'Jesus is Lord,' and believe in your heart that God raised him from the dead, you will be saved" (Romans 10:9, NIV). When we speak with our mouth and believe in our heart, we receive salvation not just from sin but from the bondage of bad habits and the tyranny of Satan.
2. We can pray the prayer of faith.
A person of faith is a praying person. Jesus said, "Therefore, I tell you, whatever you ask for in prayer, believe that you have received it, and it will be yours" (Mark 11:24, NIV). Elijah, a man of faith, prayed for rain. He spoke in faith when he told Ahab, "Go up, eat and drink; for there is the sound of abundance of rain" (1 Kings 18:41). Then he climbed up to the top of Mount Carmel, bent down to the ground and put his face between his knees and prayed. He asked his servant six times to look toward the sea to see if he had seen any sign of a cloud. Each time the servant replied that there was nothing there. Elijah continued praying. After the seventh time, the servant reported, "There is a cloud, as small as a man's hand, rising out of the sea!" (1 Kings 18:44). Elijah is a good example of one who prayed the prayer of faith and persevered till he received what he prayed to God for.
3. We must forgive.
Jesus said, "And when you stand praying, if you hold anything against anyone, forgive him, so that your Father in heaven may forgive you your sins" (Mark 11:25, NIV). If we do not forgive those who have wronged or misunderstood us, our prayers will not be answered. Unforgiveness is a sin and any unforgiveness in our hearts is a barrier between us and God.
There are three things to note about forgiveness: Firstly, to forgive is not an option. As we forgive others, God forgives us. Secondly, sin hinders our prayers. Isaiah says, "But your iniquities have separated you from your God; your sins have hidden His face from you, so that He will not hear" (Isaiah 59:2). If you have faith, forgive, for that's the only way your sins are forgiven. Thirdly, there is no limit to forgiveness. Peter asked Jesus how many times he should forgive his brother when he sins against him. Jesus answered, "I do not say to you, up to seven times, but up to seventy times seven" (Matthew 18:22). Jesus did not mean this literally. "Seven" is the perfect number and we should forgive until the person is "perfected". It may take a long time but God's grace is sufficient for us!
How big must our faith be to move mountains? Jesus' answer was, "I tell you the truth, if you have faith as small as a mustard seed, you can say to this mountain, "Move from here to there' and it will move. Nothing will be impossible for you" (Matthew 17:20, NIV). Mustard seeds are so small that they can be blown away by our breath. When you believe and act in faith, God honours your faith. If you are facing a 'mountain', whether it be a sickness, a habit, a family or financial problem, a challenge at home or at work, have faith in God because you are His child and you can experience God's power and miracles.
This article is a chapter taken from the book, "Rising Above the Storms of Life: Faith that Overcomes!" by Senior Pastor Prince Guneratnam
All Scripture references are taken from the New King James Version (NKJV), unless otherwise stated
---
MEMILIKI IMAN DALAM TUHAN
Oleh Pendita Kanan Prince Guneratnam
Manusia diciptakan untuk memiliki iman dalam Tuhan. Namun, kerana dosa ketidaktaatan Adam dan Hawa, manusia mulai meragukan janji, kehendak dan tujuan Tuhan bagi manusia. Dosa membawa ketakutan, keraguan dan ketidakpercayaan serta memutuskan hubungan dan persekutuan manusia dengan Tuhan. Seorang Kristian harus memiliki iman dalam Tuhan.
Yesus datang untuk memulihkan apa yang hilang dari manusia dengan Tuhan. Yesus sedang berbicara kepada murid-murid-Nya ketika Dia berkata, "Beriman dalam Tuhan." Alkitab berkata, "Orang benar akan hidup oleh iman" (Roma 1:17). Orang benar adalah anak-anak Tuhan, yang disucikan oleh darah Yesus.
MENGAPA MEMILIKI IMAN DALAM TUHAN?
Ada tiga alasan mengapa kita menaruh iman kita dalam Tuhan:
1. Tuhan adalah Pencipta.
Tuhan itu Maha Kuasa. Dia menciptakan umat manusia dan dunia. Oleh kerana itu, tidak ada apa yang Dia tidak dapat lakukan untuk kita (Kejadian 1).
2. Tuhan memiliki kuasa dan wibawa atas orang yang dapat menyakiti dan menghancurkan kamu.
Setan, musuh utama kita, dapat merampas sukacita, damai, harapan, dan kehidupan yang bermakna dari kita. Alkitab memberitahu kita bahawa suatu hari, Yesus pergi ke daerah Gerasenes dan bertemu dengan seorang lelaki yang dirasuk Iblis yang tidak mengenakan pakaian dan tinggal di tempat kuburan. Yesus membebaskannya dengan mengherdik dan mengusir setan yang menyiksanya (Lukas 8: 26-35). Yesus memberikan kuasa kepada murid-murid-Nya atas setan (Lukas 9: 1). Dalam kitab Wahyu, dikatakan bahawa Tuhan memiliki kuasa untuk menyingkirkan Setan dan nabi-nabi palsunya ke dalam lautan api dan mengakhiri cara jahat dan penganiayaan mereka atas umat manusia untuk selamanya (Wahyu 20:10) . Kerana itu, percayalah pada Tuhan!
3. Tuhan mengasihi kita.
Alkitab berkata, "Tidak ada kasih yang lebih besar dari pada kasih seorang yang memberikan nyawanya untuk sahabat-sahabatnya" (Yohanes 15:13). KasihNya adalah kasih yang kekal dan tanganNya terhulur siap untuk memeluk dan mengampuni kita jika kita datang kepadaNya dengan iman dan bertobat dari kesalahan kita. Kamu boleh "Serahkanlah segala kekuatiranmu kepada-Nya, sebab Ia yang memelihara kamu" (1 Petrus 5: 7), Dan, "Karena begitu besar kasih Tuhan akan dunia ini, sehingga Ia telah mengaruniakan Anak-Nya yang tunggal, supaya setiap orang yang percaya kepada-Nya tidak binasa, melainkan beroleh hidup yang kekal"(Yohanes 3:16). Jika kita berdosa dan "Jika kita mengaku dosa kita, maka Ia adalah setia dan adil, sehingga Ia akan mengampuni segala dosa kita dan menyucikan kita dari segala kejahatan" (1 Yohanes 1: 9).
BAGAIMANA MENGUNGKAPKAN IMAN DALAM TUHAN?
Ada tiga cara untuk melakukan ini:
1. Bicaralah tentang iman kamu.
Bicaralah hal-hal yang membangun dan memberi harapan daripada berbicara tentang ketakutan, keraguan, kepedihan, dan bertindak negatif. Yesus berkata, "Aku berkata kepadamu: Sesungguhnya barangsiapa berkata kepada gunung ini: Beranjaklah dan tercampaklah ke dalam laut! asal tidak bimbang hatinya, tetapi percaya, bahwa apa yang dikatakannya itu akan terjadi, maka hal itu akan terjadi baginya" ( Markus 11:23). Kita dapat berbicara dengan iman tentang kekuatan Tuhan untuk melakukan yang mustahil.
Tuhan berfirman, maka terjadilah dunia ini. Alkitab berkata, "Berfirmanlah Tuhan: "Jadilah terang." Lalu terang itu jadi" (Kejadian 1: 3). Dia juga "menjadikan dengan firman-Nya apa yang tidak ada menjadi ada" (Roma 4:17). Yesus berbicara tentang kesembuhan kepada orang tuli, orang bisu, orang buta dan orang sakit. Yesus berkata kepada orang lumpuh, "Bangunlah, angkatlah tempat tidurmu dan pulanglah ke rumahmu!" Dan orang itupun bangun lalu pulang"(Matius 9: 6-7). Anak yang hilang, setelah menyia-nyiakan kekayaannya dalam kehidupan liar, sedar kembali di kandang babi. Dia berkata pada dirinya sendiri, "Aku akan bangkit dan pergi kepada bapaku dan berkata kepadanya: Bapa, aku telah berdosa terhadap sorga dan terhadap bapa, aku tidak layak lagi disebutkan anak bapa; jadikanlah aku sebagai salah seorang upahan bapa"(Lukas 15: 18-19). Dia kemudian bangkit dan pergi menemui ayahnya. Dia mengungkapkan imannya dan bertindak menurut imannya serta dipulihkan sebagai anak semula. Wanita dengan pendarahan selama dua belas tahun juga mengungkapkan imannya ketika dia berkata pada dirinya sendiri, "Asal kujamah saja jubah-Nya, aku akan sembuh" (Matius 9:21). Oleh kerana itu, kita perlu mengungkapkan iman kita, mewujudkannya dan kita akan mengalami kuasa dan mukjizat Tuhan dalam hidup kita. Percayalah pada hatimu dan akui dengan mulutmu. Paulus mengajarkan, "Sebab jika kamu mengaku dengan mulutmu, bahwa Yesus adalah Tuhan, dan percaya dalam hatimu, bahwa Tuhan telah membangkitkan Dia dari antara orang mati, maka kamu akan diselamatkan" (Roma 10: 9). Ketika kita berbicara dengan mulut kita dan percaya di dalam hati kita, kita menerima keselamatan bukan hanya dari dosa tetapi dari ikatan kebiasaan buruk dan kezaliman Setan.
2. Kita boleh berdoa dengan doa iman.
Orang yang beriman adalah orang yang berdoa. Yesus berkata, "Karena itu Aku berkata kepadamu: apa saja yang kamu minta dan doakan, percayalah bahwa kamu telah menerimanya, maka hal itu akan diberikan kepadamu" (Markus 11:24). Elia, seorang yang beriman, berdoa memohon hujan. Dia berbicara dengan iman ketika dia berkata kepada Ahab, "Pergilah, makanlah dan minumlah, sebab bunyi derau hujan sudah kedengaran"(1 Raja-raja 18:41). Kemudian dia naik ke puncak Gunung Karmel, membungkuk ke tanah dan meletakkan wajahnya di antara lutut dan berdoa. Dia meminta pelayannya enam kali untuk melihat ke arah laut untuk melihat apakah dia telah melihat tanda-tanda awan. Setiap kali hamba menjawab bahwa tidak ada apa-apa di sana. Elia terus berdoa. Pada ketujuh kalinya berkatalah bujang itu: "Wah, awan kecil sebesar telapak tangan timbul dari laut." Lalu kata Elia: "Pergilah, katakan kepada Ahab: Pasang keretamu dan turunlah, jangan sampai engkau terhalang oleh hujan." (1 Raja 18:44). Elia adalah contoh yang baik dari seseorang yang berdoa dengan iman dan bertahan sampai dia menerima apa yang dia doakan kepada Tuhan.
3. Kita harus mengampuni.
Yesus berkata, "Dan jika kamu berdiri untuk berdoa, ampunilah dahulu sekiranya ada barang sesuatu dalam hatimu terhadap seseorang, supaya juga Bapamu yang di sorga mengampuni kesalahan-kesalahanmu" (Markus 11:25). Jika kita tidak mengmapuni mereka yang telah berbuat salah atau salah faham terhadap kita, doa kita tidak akan dijawab. Tidak mengampuni adalah dosa dan tidak mengampuni dalam hati kita adalah penghalang antara kita dan Tuhan.
Ada tiga hal yang perlu diperhatikan tentang pengampunan: Pertama, mengampuni bukanlah pilihan. Saat kita mengampuni orang lain, Tuhan mengampuni kita. Kedua, dosa menghalangi doa kita. Yesaya berkata, "tetapi yang merupakan pemisah antara kamu dan Tuhanmu ialah segala kejahatanmu, dan yang membuat Dia menyembunyikan diri terhadap kamu, sehingga Ia tidak mendengar, ialah segala dosamu "(Yesaya 59: 2). Jika kamu memiliki iman, ampunilah, kerana itulah satu-satunya cara dosa kamu diampuni. Ketiga, tidak ada batasan untuk pengampunan. Petrus bertanya kepada Yesus berapa kali dia harus mengampuni saudaranya ketika dia berdosa terhadap dia. Yesus berkata kepadanya: "Bukan! Aku berkata kepadamu: Bukan sampai tujuh kali, melainkan sampai tujuh puluh kali tujuh kali" (Matius 18:22). Yesus tidak memaksudkannya secara hurufiah. "Tujuh" adalah angka yang sempurna dan kita harus memaafkan sampai orang tersebut "disempurnakan". Mungkin memerlukan waktu lama tapi kasih karunia Tuhan sudah cukup untuk kita!
Berapa besar iman kita diperlukan untuk memindahkan gunung? Jawapan Yesus adalah, "Sesungguhnya sekiranya kamu mempunyai iman sebesar biji sesawi saja kamu dapat berkata kepada gunung ini: Pindah dari tempat ini ke sana, --maka gunung ini akan pindah, dan takkan ada yang mustahil bagimu"(Matius 17:20). Biji sawi sangat kecil sehingga dapat dihembus oleh nafas kita. Apabila kamu percaya dan bertindak dalam iman, Tuhan menghormati iman kamu. Sekiranya kamu menghadapi 'gunung', sama ada penyakit, kebiasaan, masalah keluarga atau kewangan, cabaran di rumah atau di tempat kerja, percayalah kepada Tuhan kerana kamu adalah anak-Nya dan kamu dapat mengalami kuasa dan keajaiban Tuhan.
Artikel ini adalah satu bab yang diambil dari buku, "Bangkit di Atas Badai Kehidupan: Iman yang Mengatasi!" oleh Pendita Kanan Prince Guneratnam
Semua rujukan Alkitab adalah dari Alkitab bahasa Indonesia, melainkan dinyatakan.

---
相信神
文:古纳南主任牧师
神创造人是要人相信神。但由于亚当和夏娃犯了悖逆之罪,所以人便开始怀疑神赐给人的应许,还有神创造人的旨意和目的。罪使人产生恐惧、怀疑和不信,也因而破坏了人与神之间的关系和团契。所以,基督徒要相信神。
耶稣来,是为了找回人从神那里失去的一切。耶稣对门徒说:"相信神"。正如经上所记:"义人必因信得生。"(罗马书 1:17)义人是上帝的儿女,已被耶稣的宝血洗净了。
为什么相信神?
我们相信神的三个理由:

1. 神是创造者
神是全能的神。他创造人类和整个世界。在他没有不能成就的事。(创世纪 1章)
2. 神掌权,他掌管所有可以伤害和毁灭你的人。
我们的头号敌人——撒但——能夺走我们的喜乐、和平、盼望和有意义的人生。 圣经告诉我们,有一天耶稣到了格拉森人的地区,就有城里一个被鬼附着的人,迎面而来。这人已经很久不穿衣服,不住在家里,只住在坟墓里。耶稣斥责并驱逐折磨他的魔鬼,释放他。(路加福音8:26-35)耶稣给他的门徒能力制伏一切鬼魔。(路加福音9:1)启示录上说,神有能力将撒但和他的假先知抛在火湖里,并一劳永逸地终结他们对人的邪恶行径和苦难。(启示录20:10)因此,要相信神!
3. 神爱我们
圣经上说:"人为朋友舍命,人间的爱没有比这个更大的了。"(约翰福音15:13)神的爱永远长存,当我们凭信心来到他跟前为自己的罪行悔改,他必伸展双臂拥抱我们,原谅我们。所以,你们要把一切忧虑卸给神,因为他顾念你们。(彼得前书5:7)因为,神爱世人,甚至把他的独生子赐给他们,叫一切信他的,不至灭亡,反得永生。(约翰福音3:16)当我们犯罪,我们若承认自己的罪,神是信实的、公义的,必定赦免我们的罪,洁净我们脱离一切不义。(约翰壹书1:9)
如何表达相信神?
我们可以透过三种方式:
1. 凭信心说话
说出激励并充满希望的话语,而不是我们的恐惧、怀疑、伤害和负面的话。耶稣说:"我实在告诉你们,无论甚么人对这座山说'移开,投到海里',只要他心里不怀疑,相信他所说的一定能够成就,就必给他成就。"(马可福音 11:23)我们凭信心宣告神的能力能成就不可能的事。
神的话语创造天地万物。圣经上说:"神说:'要有光!'就有了光。"(创世记1:3)他是"使无变为有的 神"。(罗马书4:17)耶稣对耳聋、哑巴、瞎眼和病人宣告医治。耶稣就对瘫子说:"起来,拿起你的床,回家去吧。他就起来回家去了。"(马太福音9:6-7)
浪子小儿生活放荡,花尽了一切所有的,他放猪的时候醒悟过来。他说:"我要起来,到我父亲那里去,对他说:爸爸,我得罪了天,也得罪了你,不配再称为你的儿子,把我当作一个雇工吧!"(路加福音15:18-19)之后他便起身去找父亲。他凭信心说出他所相信的并付诸行动,于是他恢复了儿子的身份。
有一个女人患了十二年的血漏病,她也在心里凭借信心说:"只要摸到他的衣服,我就必痊愈。"(马太福音9:21)所以,只要我们说出内心所相信的,并付诸行动就能在生活中经历神的大能和神迹。心里相信,口里承认。保罗教导我们说:"你若口里认耶稣为主,心里信 神使他从死人中复活,就必得救;"(罗马书10:9)当我们说出内心所相信的,我们不单能从罪中得到救赎,也能从我们的不良习惯和撒旦的束缚中得到释放。
2. 凭信心祷告
有信心的人都是祷告的人。耶稣说:"所以我告诉你们,凡是你们祷告祈求的,只要相信能够得到,就必得到。"(马可11:24)以利亚,对神有信心,他祷告求雨。以利亚凭着信心对亚哈说:"你上去吃喝吧!因为已经有下大雨的响声了。(列王纪上18:41)以利亚上了迦密山顶,屈身在地,把脸放在两膝之间。以利亚吩咐自己的仆人六次上去向海那边观看。仆人说什么也没有。以利亚继续祷告。到了第七次,仆人说:"我看到一小片乌云,好像人的手掌那么大,正在从海里升上来。"(列王纪上18:44)以利亚是一个很好的例子,他凭信心祷告并坚持不懈,直到神成就。
3. 我们必须饶恕
耶稣说:"你们站着祷告的时候,如果有谁得罪了你们,就该饶恕他,好使你们的天父也饶恕你们的过犯。"(马可福音11:25)如果我们不饶恕那些得罪或误解我们的人,神不会回应我们的祷告。不饶恕就是犯罪,我们心里任何怨恨都会让我们与神隔离。
饶恕有三件事要注意:首先,饶恕不是一种选择。当我们饶恕别人时,神就饶恕我们。其次,罪阻挡我们的祷告。以赛亚说:"而是你们的罪孽使你们与你们的 神隔绝;你们的罪恶使他掩面不顾你们,不听你们的祷告。"(以赛亚书59:2)当你们相信神,选择饶恕,因为只有这样你们的罪才能得到赦免。第三,饶恕没有次数限制。彼得问耶稣,如果他的兄弟得罪他,他应该原谅兄弟多少次。耶稣对他说:"我告诉你,不是七次,而是七十个七次"(马太福音18:22)耶稣所说的不能照字面理解。"七"是个完美的数字,我们应该饶恕他直到他"完美"。这可能需要很长时间,可是神的恩典够用!
我们的信心要有多大才能叫山移开呢?耶稣的回答是:"我实在告诉你们,只要你们的信心像一粒芥菜种,就是对这山说:'从这里移到那里',它也必移开。没有什么是你们不能作的。"(马太福音17:20)芥菜种子很小,我们只要呼气就可以把它吹走。当你相信神,凭信心行事,神会兑现你的信心。当你面临你的"大山",不管它是疾病、习惯、家庭或经济问题,无论是在家里或工作上遇到挑战,你要相信神,因为你是他的孩子,你也要经历神的大能和神迹。
文章取自主任牧师一书《超越生命中的风暴:得胜的信心》
经文摘自新译本圣经。