December 10, 2021
HEAVEN'S RESPONSE AT THE BIRTH OF CHRIST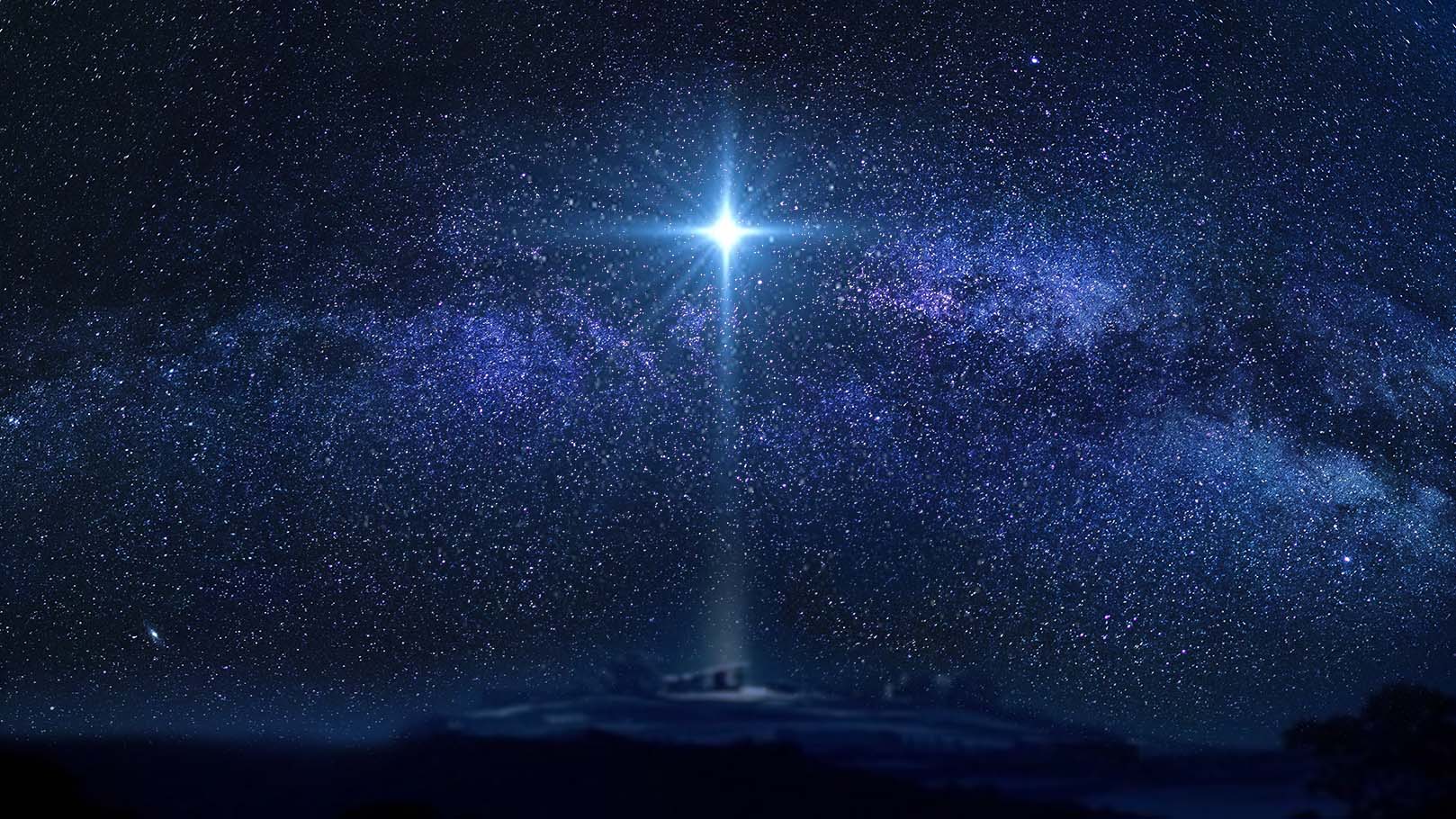 "That night there were shepherds staying in the fields nearby, guarding their flocks of sheep. Suddenly, an angel of the Lord appeared among them, and the radiance of the Lord's glory surrounded them. They were terrified, but the angel reassured them. "Don't be afraid!" he said. I bring you good news that will bring great joy to all people. The Saviour – yes, the Messiah, the Lord – has been born today in Bethlehem, the city of David! And you will recognize him by this sign: You will find a baby wrapped snugly in strips of cloth, lying in a manger. Suddenly, the angel was joined by a vast host of others – the armies of heaven – praising God and saying, "Glory to God in highest heaven, and peace on earth to those with whom God is pleased."" (Luke 2:8-14). Heaven's response to the birth of Jesus Christ was worship. A descending army of angels came and sang songs of praise and worship to God. Christmas is a call to worship God and His Son, Jesus Christ. The best gift we can give God is our worship because worship involves serving God.
What did God have to say about worship? God made it clear to Moses that worship belongs to God. God said, "You must not make for yourself an idol of any kind or an image of anything in the heavens or on the earth or in the sea. You must not bow down to them or worship them, for I, the Lord your God, am a jealous God who will not tolerate your affection for any other gods." (Exodus 20:4-5a). That is why the first thing we do at church is to enter into a time of worship. Jesus' response to Satan's temptation in the wilderness was, "The Scriptures say, 'You must worship the Lord your God and serve only him.'" (Luke 4:8). If we worship God, we will want to serve Him. True worshippers are servers. True worshippers get involved in doing things for the glory of God. They respond with action and obedience. Satan knew that if Jesus were to bow down in worship, Jesus would also serve him.
God created everything that He might receive glory and honor. John in Revelation said, "You are worthy, O Lord our God, to receive glory and honour and power. For you created all things, and they exist because you created what you pleased." (Revelation 4:11). All things were made to declare God's glory. Psalm 19:1 says, "The heavens proclaim the glory of God. The skies display his craftsmanship."
God created us with the ability to worship. God enthrones Himself in our worship. His presence meets every need we may have. Satan desires to rob us of God's provision and fulfilment in life. Only human beings can worship because we have been created in His image with a body, soul and mind. When man sinned, man's soul was cut off from fellowship with God. Jesus came to redeem us by dying on the cross and restored our fellowship with God. Jesus said to the Samaritan woman at the well, "But the time is coming – indeed it's here now – when true worshippers will worship the Father in spirit and in truth. The Father is looking for those who will worship him that way." David said, "Why am I discouraged? Why is my heart so sad? I will put my hope in God! I will praise him again" (Psalm 42:5).
Worship ascribes worth. There are many ways we can worship and the Bible mentions some of them.
1. WE CAN WORSHIP VERBALLY
Psalm 26:7 says, "Singing a song of thanksgiving and telling of all your wonders." We sing in church because singing is a form of verbal worship to God. Moses and the children of Israel sang about what God had done, "I will sing to the Lord, for he has triumphed gloriously; he has hurled both horse and rider into the sea" (Exodus 15:1). Testimonies can be a worship. Psalm 98:4 says, "Shout to the Lord, all the earth break out in praise and sing for joy!" When we shout to the Lord, we drown out the negative voice of Satan. Psalm 66:1 says, "Shout joyful praises to God, all the earth!" Psalm 47:1 says, "Come, everyone! Clap your hands! Shout to God with joyful praise!" The clapping of hands is not about making noise. If we really clap as unto the Lord, He is glorified.
We keep living the way we have been, living in our sicknesses, rejection, heartaches and unfulfilled needs because we have not learnt to enter into the presence of God through worship. In His presence are the provisions that meet our needs.
2. WE CAN WORSHIP WITH INSTRUMENTS
Psalm 33:3 says, "Sing a new song of praise to him; play skilfully on the harp, and sing with joy." Psalm 98:6 says, "With trumpets and the sound of the ram's horn. Make a joyful symphony before the Lord, the King!" Psalm 47:5 says, "God has ascended with a mighty shout. The Lord has ascended with trumpets blaring." Musical instruments can be used for the glory of God.
3. WORSHIP CAN BE DEMONSTRATED
Psalm 95:6 says, "Come, let us worship and bow down. Let us kneel before the Lord, our maker." Kneeling is another form of worship. Psalm 150:4 says this, "Praise him with the tambourine and dancing; praise him with strings and flutes!" Dancing as a demonstration of praise unto God is scriptural. We need to understand that we do these not out of a form, but with meaning. There are some wonderful examples of this. Aaron's sister, Miriam danced before the Lord after crossing the Red Sea (Exodus 15:20) and so did David. 2 Samuel 6:14 says, "And David danced before the Lord with all his might, wearing a priestly garment." David said, "You have turned my mourning into joyful dancing." (Psalm 30:11). There is healing, deliverance and forgiveness when we enter into the presence of God in worship. Let us worship God with our instruments, songs, testimonies and dance for He is worthy of our honor and praise.
4. WORSHIP BY THE LIFTING OF HANDS
Another form of worship can be found in Psalm 141:2, "Accept my prayer as incense offered to you, and my upraised hands as an evening offering." The raising of hands is not a church religious form but has a biblical basis. The Bible talks about "lifting holy hands". Our hands can express how we actually feel. When we raise our hands, it can be an act of surrender, reverence, humility or need. Holy hands, because we are redeemed and it is unto the Lord.
5. GIVING HONOURS GOD IN OUR WORSHIP
Psalm 96:6 says, "Honour and majesty surround him; strength and beauty fill his sanctuary." The Bible says in Proverbs 3:9, "Honour the Lord with your wealth and with the best part of everything you produce." Another form of worship is bringing our wealth and what we have to Him. When we honour Him with what we have, He multiplies just like the five loaves and two fish. The Bible says, "Give, and you will receive. Your gift will return to you in full – pressed down, shaken together to make room for more, running over, and poured into your lap. The amount you give will determine the amount you get back." (Luke 6:38). Our tithes and offerings opens the window of heaven to bless us and God will rebuke the devourer, who is a destroyer and a robber (Malachi 3:10).
Heaven comes down when we worship. Isaiah 6:1-3 says, "It was in the year King Uzziah died that I saw the Lord. He was sitting on a lofty throne, and the train of his robe filled the Temple. Attending him were mighty seraphim, each having six wings. With two wings they covered their faces, with two they covered their feet, and with two they flew. They were calling out to each other, "Holy, holy, holy is the Lord of Heaven's Armies! The whole earth is filled with his glory!"" Worship brings God's glory into our midst.
In heaven, there is a constant flow, unstoppable time and season of a continual worship. The Bible says in Revelation 19:1, "After this, I heard what sounded like a vast crowd in heaven shouting, "Praise the Lord! Salvation and glory and power belong to our God." If we are uncomfortable worshipping here on earth, heaven will not be a happy place for you.
Worship makes us anointed witnesses. When the shepherds came and worshipped, they went out and told others the good news. When worshippers truly worship, they will go and tell of what God has done. Secondly, the wise men came to worship by bringing their gifts. True worshippers walk in obedience. After they worshipped, "When it was time to leave, they returned to their own country by another route, for God had warned them in a dream not to return to Herod." (Matthew 2:12). Let us as born again believers make worship our lifestyle whether we are in church or regardless of the day or season we live in.
---
TINDAKBALAS SYURGA TERHADAP KELAHIRAN KRISTUS
Oleh Pendita Kanan Prince Guneratnam
"Di daerah itu ada gembala-gembala yang tinggal di padang menjaga kawanan ternak mereka pada waktu malam. Tiba-tiba berdirilah seorang malaikat Tuhan di dekat mereka dan kemuliaan Tuhan bersinar meliputi mereka dan mereka sangat ketakutan. Lalu kata malaikat itu kepada mereka: "Jangan takut, sebab sesungguhnya aku memberitakan kepadamu kesukaan besar untuk seluruh bangsa: Hari ini telah lahir bagimu Juruselamat, yaitu Kristus, Tuhan, di kota Daud. Dan inilah tandanya bagimu: Kamu akan menjumpai seorang bayi dibungkus dengan lampin dan terbaring di dalam palungan." Dan tiba-tiba tampaklah bersama-sama dengan malaikat itu sejumlah besar bala tentara sorga yang memuji Tuhan, katanya "Kemuliaan bagi Tuhan di tempat yang mahatinggi dan damai sejahtera di bumi di antara manusia yang berkenan kepada-Nya" (Lukas 2:8-14).
Tindakbalas syurga terhadap kelahiran Yesus Kristus adalah penyembahan. Sepasukan malaikat turun dan menyanyikan lagu-lagu pujian dan penyembahan kepada Tuhan. Hari Natal adalah panggilan untuk menyembah Tuhan dan anakNya Yesus Kristus. Hadiah terbaik yang dapat kita berikan kepada Tuhan ialah penyembahan kita kerana penyembahan merangkumi melayani Tuhan.
Apa yang dikatakan Tuhan tentang penyembahan? Tuhan menjelaskan kepada Musa bahawa penyembahan kepunyaan Tuhan. Tuhan berkata, "Jangan membuat bagimu patung yang menyerupai apapun yang ada di langit di atas, atau yang ada di bumi di bawah, atau yang ada di dalam air di bawah bumi. Jangan sujud menyembah kepadanya atau beribadat kepadanya, sebab Aku, TUHAN, Tuhanmu, adalah Tuhan yang cemburu" (Keluaran 20:4,5a). Oleh sebab itulah yang pertama kita lakukan di gereja ialah melakukan penyembahan. Tindakbalas Yesus kepada iblis dalam cobaan di padang gurun ialah, "Lalu, Yesus menjawab, "Ada tertulis, 'Kamu harus menyembah Tuhanmu, dan hanya kepada-Nya kamu harus berbakti'"(Lukas 4:8). Jikalau kita menyembah Tuhan, kita sudah pasti mahu melayaniNya. Penyembah benar adalah mereka yang melayani. Penyembah benar melibatkan diri dengan melakukan kerja-kerja yang memuliakan Tuhan. Mereka bertindakbalas dengan aksi dan ketaatan. Iblis ketahui jikalau Yesus melutut menyembahnya, Yesus juga akan melayaninya.
Tuhan mencipta segala-galanya supaya Dia akan terima kemuliaan dan hormat. Yohanes dalam Wahyu berkata, "Ya Tuhan dan Tuhan kami, Engkau layak menerima kemuliaan, hormat, dan kuasa karena Engkau telah menciptakan segala sesuatu dan karena kehendak-Mu semua itu ada dan diciptakan"(Wahyu 4:11). Segala benda dijadikan untuk menunjukkan kemuliaan Tuhan. Mazmur 19:1 mengatakan, "Langit menceritakan kemuliaan Tuhan, dan cakrawala memberitakan pekerjaan tangan-Nya" Tuhan mencipta kita dengan keupayaan menyembahNya. Tuhan mentakhtakan diriNya dalam penyembahan kita. HadiratNya memenuhi segala keperluan yang kita ada. Iblis mahu merompak kita daripada pembekalan Tuhan dan kepenuhan hidup. Hanya manusia sahaja yang mampu menyembah Tuhan kerana kita dicipta Tuhan dalam imejNya dengan adanya tubuh, jiwa dan minda. Apabila manusia berdosa, jiwa manusia putus hubungan dengan Tuhan. Yesus datang untuk menebus kita dengan kematianNya di kayu salib dan memulihkan hubungan kita dengan Tuhan. Yesus berkata kepada perempuan di perigi Samaria, "Tetapi saatnya akan datang dan sudah tiba sekarang, bahwa penyembah-penyembah benar akan menyembah Bapa dalam roh dan kebenaran. sebab Bapa menghendaki penyembah-penyembah demikian" Daud berkata," Inilah yang hendak kuingat, sementara jiwaku gundah gulana; bagaimana aku berjalan maju dalam kepadatan manusia, mendahului mereka melangkah ke rumah Tuhan dengan suara sorak-sorai dan nyanyian syukur, dalam keramaian orang-orang yang mengadakan perayaan"(Mazmur 42:5). Penyembahan menggambarkan nilai. Terdapat pelbagai cara kita boleh menyembah dan Alkitab ada memberi beberapa contoh.
1. KITA BOLEH MENYEMBAH SECARA LISAN
Mazmur 26:7 menyatakan, "sambil memperdengarkan nyanyian syukur dengan nyaring, dan menceritakan segala perbuatan-Mu yang ajaib" Kita menyanyi dalam gereja kerana nyanyian adalah satu bentuk penyembahan lisan kepada Tuhan. Musa dan anak-anak Israel menyanyi tentang perbuatan Tuhan, "Pada waktu itu Musa bersama-sama dengan orang Israel menyanyikan nyanyian ini bagi TUHAN yang berbunyi: "Baiklah aku menyanyi bagi TUHAN, sebab Ia tinggi luhur, kuda dan penunggangnya dilemparkan-Nya ke dalam laut"(Keluaran 15:1). Memberi kesaksian juga satu bentuk penyembahan. Mazmur 98:4 menyatakan, "Bersorak-soraklah bagi TUHAN, hai seluruh bumi, bergembiralah, bersorak-sorailah dan bermazmurlah!" Apabila kita bersorak sorai kepada Tuhan, kita menenggelamkan suara negatif iblis. Mazmur 66:1 menyatakan, "Bersorak-sorailah bagi Tuhan, hai seluruh bumi!" Mazmur 47:1 menyatakan, "Hai segala bangsa, bertepuk tanganlah, elu-elukanlah Tuhan dengan sorak-sorai!" Tepukan tangan bukanlah tentang membuat bising. Sekiranya kita benar-benar bertepuk tangan bagaikan kepada Tuhan, Dia akan dimuliakan.
Kita terus hidup dengan cara sediakala, hidup dalam penyakit kita, terabai, kesakitan jiwa dan keperluan-keperluan yang tidak dipenuhi, kerana kita belum lagi pelajari nikmat memasuki hadirat Tuhan melalui penyembahan. Dalam hadiratNya adalah pembekalan yang memenuhi keperluan kita.
2. KITA BOLEH MENYEMBAH DENGAN ALAT-ALATAN
Mazmur 33:3 menyatakan, "Nyanyikanlah bagi-Nya nyanyian baru; petiklah kecapi baik-baik dengan sorak-sorai!" Mazmur 98:6 menyatakan, "dengan nafiri dan sangkakala yang nyaring bersorak-soraklah di hadapan Raja, yakni Tuhan!" Mazmur 47:5 menyatakan " Tuhan telah naik dengan diiringi sorak-sorai, ya Tuhan itu, dengan diiringi bunyi sangkakala" Peralatan muzik boleh digunakan untuk kemuliaan Tuhan.
3. PENYEMBAHAN BOLEH DITUNJUKKAN
Mazmur 95:6 menyatakan, "Masuklah, marilah kita sujud menyembah, berlutut di hadapan TUHAN yang menjadikan kita." Bersujud satu lagi bentuk penyembahan. Mazmur 150:4 menyatakan ini, "Pujilah Dia dengan rebana dan tari-tarian, pujilah Dia dengan permainan kecapi dan seruling!" Menari sebagai demonstrasi pujian terhadap Tuhan adalah selari dengan ajaran Alkitab. Kita harus memahami kita lakukannya bukan hanya beraksi, tetapi mempunyai makna. Terdapat beberapa contoh indah tentang ini. Kakak Harun, Miriam menari didepan Tuhan setelah menyeberangi Lautan Merah (Keluaran 15:20), begitu juga Daud. 2 Samuel 6:14 menyatakan, "Dan Daud menari-nari di hadapan Tuhan dengan sekuat tenaga; ia berbaju efod dari kain lenan" Daud berkata, "Aku yang meratap telah Kau ubah menjadi orang yang menari-nari" (Mazmur 30:11). Terdapat penyembuhan, pembebasan dan pengampunan apabila kita memasuki hadiratNya dalam penyembahan. Marilah kita sembah Tuhan dengan alat-alatan, lagu, kesaksian dan tarian kerana Dia layak menerima hormat dan pujian.
4. SEMBAH DENGAN MENGANGKAT TANGAN
Satu lagi bentuk penyembahan terdapat dalam Mazmur 141:2, "Biarlah doaku adalah bagi-Mu seperti persembahan ukupan, dan tanganku yang terangkat seperti persembahan korban pada waktu petang." Mengangkat tangan bukanlah satu bentuk amalan gereja tetapi mempunyai lunas Alkitab. Alkitab menyebut tentang "mengangkat tangan kudus" Tangan kita dapat memberi ungkapan perasaan kita yang sebenarnya. Semasa kita mengangkat tangan, ianya boleh melambangkan aksi penyerahan, penghormatan, merendah diri atau mempunyai keperluan. Tangan suci, kerana kita telah ditebus dan ianya kepada Tuhan.
5. PEMBERIAN MENGHORMATI TUHAN DALAM PENYEMBAHAN KITA
Mazmur 96:6 menyatakan, "Keagungan dan semarak ada di hadapan-Nya, kekuatan dan kehormatan ada di tempat kudus-Nya." Alkitab dalam Amsal 3:9 menyatakan, "Muliakanlah TUHAN dengan hartamu dan dengan hasil pertama dari segala penghasilanmu." Satu lagi bentuk penyembahan ialah membawa kekayaan dan segala yang dimiliki kepadaNya. Bila kita mengagungkan Dia dengan segala yang kita miliki, Dia menggandakan sama seperti kisah lima buku roti dan dua ekor ikan. Alkitab menyatakan, "Berilah dan kamu akan diberi: suatu takaran yang baik, yang dipadatkan, yang digoncang dan yang tumpah ke luar akan dicurahkan ke dalam ribaanmu. Sebab ukuran yang kamu pakai untuk mengukur, akan diukurkan kepadamu" (Lukas 6:38). Pemberian persepuluhan dan pemberian kasih membuka tingkap syurga untuk memberkati kita dan Tuhan akan menegur musuh, yang memusnah dan mencuri (Maleakhi3:10).
Syurgawi turun apabila kita menyembah. Yesaya 6:1-3 menyatakan, "Dalam tahun matinya raja Uzia aku melihat Tuhan duduk di atas takhta yang tinggi dan menjulang, dan ujung jubah-Nya memenuhi Bait Suci. Para Serafim berdiri di sebelah atas-Nya, masing-masing mempunyai enam sayap; dua sayap dipakai untuk menutupi muka mereka, dua sayap dipakai untuk menutupi kaki mereka dan dua sayap dipakai untuk melayang-layang. Dan mereka berseru seorang kepada seorang, katanya: "Kudus, kudus, kuduslah Tuhan semesta alam, seluruh bumi penuh kemuliaan-Nya!" "Penyembahan membawa kemuliaan Tuhan di kalangan kita. Di syurga, sentiasa ada pengaliran berterusan, masa berterusan dan musim penyembahan berterusan. Alkitab dalam Wahyu 19:1 menyatakan, "Kemudian dari pada itu aku mendengar seperti suara yang nyaring dari himpunan besar orang banyak di sorga, katanya: "Haleluya! Keselamatan dan kemuliaan dan kekuasaan adalah pada Tuhan kita." Jikalau kita kurang selesa menyembah di bumi, syurga bukanlah tempat yang gembira bagi kamu.
Penyembahan menjadikan kita saksi yang diurapi. Apabila gembala-gembala datang menyembah, mereka pergi dan memberitakan khabar baik. Apabila penyembah-penyembah menyembah dengan benar, mereka akan pergi dan memberitakan kebaikan Tuhan. Kedua, orang-orang majus datang menyembah dengan membawa hadiah-hadiah. Penyembah benar berjalan dalam kepatuhan. Setelah mereka menyembah, "Dan karena diperingatkan dalam mimpi, supaya jangan kembali kepada Herodes, maka pulanglah mereka ke negerinya melalui jalan lain" (Matius 2:12). Marilah kita sebagai penganut yang telah dilahirkan semula menjadikan penyembahan gaya hidup kita sama ada kita berada di gereja atau tanpa mengira hari atau musim dalam kehidupan.
---
"在伯利恒的郊外,有一些牧人在夜间看守羊群。主的一位使者站在他们旁边,主的荣光四面照着他们,他们就非常害怕。天使说:"不要怕!看哪!我报给你们大喜的信息,是关于万民的:今天在大卫的城里,为你们生了救主,就是主基督。你们要找到一个婴孩,包着布,卧在马槽里,那就是记号了。"忽然有一大队天兵,同那天使一起赞美 神说:"在至高之处,荣耀归与 神!"(路加福音 2:8-14)天堂对耶稣基督诞生的回应是敬拜。有一大队天兵下来,唱歌赞美敬拜神。圣诞节是赞美敬拜神和他的儿子耶稣基督的呼召。敬拜是我们给神最好的礼物,因为敬拜包括服事神。
对于敬拜,神怎么说?神明确地告诉摩西,敬拜属于神。神说:"不可为自己做偶像,也不可做天上、地下和地底下水中各物的形象。不可跪拜它们,也不可事奉它们,因为我耶和华你们的 神是忌邪的 神"(出埃及记 20:4-5a)所以我们到教会第一件事就是敬拜神。耶稣在旷野受撒旦试探时,回应道:"经上记着:'当拜主你的 神,单要事奉他。'"(路加福音 4:8)敬拜神的人都会想要服事神。真正的敬拜者也是服事者。真正的敬拜者为神的荣耀参与服事,以行动和顺从的心回应神。撒旦知道,只要耶稣俯首敬拜他,耶稣就会服事他。
神创造了万物,为要得着荣耀和尊贵。约翰在启示录中说:"主,我们的 神,你是配得荣耀、尊贵、权能的,因为你创造了万有,万有都是因着你的旨意而存在,而被造的。"(启示录 4:11)万物被造是为了宣扬神的荣耀。诗篇 19:1说:"诸天述说 神的荣耀,穹苍传扬他的作为。"
神创造了我们,使我们有能力敬拜他。当我们敬拜神,他就坐上宝座。他的同在满足我们所有需求。撒旦极欲夺走神在我们生命中的供应和满足。这世间只有人可以敬拜,因为我们是按照神的形象被造的,有身体、灵魂和思想。当人犯了罪,人与神的关系就切断了。耶稣诞生为了救赎我们,透过他在十字架上的牺牲,修复了我们与神的关系。耶稣在井边对那撒玛利亚妇人说:"然而时候将到,现在就是了,那用心灵按真理敬拜父的,才是真正敬拜的人;因为父在寻找这样敬拜他的人。"(约翰福音 4:23)大卫说:"我的心哪!你为什么沮丧呢?为什么在我里面不安呢?应当等候 神;因为我还要称赞他,他是我面前的救助、我的 神。"(诗篇 42:5)
敬拜神因为他配得。我们可以透过很多方式敬拜,圣经提到了其中一些。
1. 我们可以开口敬拜
诗篇26:7说:"好使我发出称谢的声音,述说你一切奇妙的作为。"我们在教会唱歌赞美,因为唱歌是对神口头上的敬拜。摩西和以色列子民歌唱神的作为。"我要向耶和华歌唱,因为他高高地被高举起来;他把马匹和骑马的投在海中"(出埃及记 15:1)当我们向神高声呼喊,我们声音淹没撒旦的负面声音。诗篇66:1说:"全地的居民哪!你们应当向 神欢呼"诗篇47:1说:"万民哪!你们都要鼓掌,要向 神欢声呼喊;"鼓掌不是制造噪音。当我们真心为神鼓掌,他就得荣耀。
我们一直按照自己的方式活着,活在疾病、拒绝、痛心和不满足里,因为我们没有学会透过敬拜进入神的同在。他的同在满足我们的需要。
2. 我们可以用乐器来敬拜
诗篇33:3说:"你们要向他唱新歌,在欢呼声中巧妙地弹奏。"诗篇98:6说:"要用号筒和号角的声音,在大君王耶和华面前欢呼。"诗篇47:5说:"神在欢呼声中上升,耶和华在号角声中上升。" 让我们用乐器来荣耀神。
3. 我们可以透过外在形式来敬拜
诗篇95:6说:"来吧,我们来俯伏敬拜,在造我们的耶和华面前跪下。"跪拜是另一种形式的敬拜。诗篇150:4说:"要击鼓跳舞赞美他,要弹奏丝弦的乐器和吹箫赞美他。" 跳舞赞美神符合圣经教导。我们要知道,我们这样做不是出于形式,而是基于它背后的意义。美好的例子有亚伦的姐姐米利暗渡过红海后在主面前跳舞(出埃及记15:20)。大卫也如此敬拜神,撒母耳记下 6:14说:"大卫束着细麻布的以弗得,在耶和华面前极力跳舞。"大卫说:"你已经把我的悲哀变为舞蹈,把我的麻衣脱去,又给我穿上欢乐。"(诗篇 30:11)当我们在敬拜中进入神的同在时就会经历医治、释放和宽恕。让我们用乐器、歌声、见证和舞蹈来敬拜神,因为他配得尊崇和赞美。
4. 我们可以高举双手来敬拜
诗篇141:2告诉我们另一种形式的敬拜:"愿我的祷告好象香安放在你面前;愿我的手高举好象献晚祭。" 举手不是教会的宗教形式,而是依据圣经的基础。圣经上说:"举起圣洁的手"。我们的手可以表达我们的真实感受。当我们举起双手,它可以表示降服、敬畏、谦卑或需求。举起圣洁的手,因为我们已经被救赎并属于主。
5. 我们在敬拜中荣耀神
诗篇96:6说:"尊荣和威严在他面前,能力和华美在他圣所之中。" 圣经箴言3:9说:"你要把你的财物,和一切初熟的农作物,敬奉耶和华。"另一种敬拜方式是把我们的财富和拥有的财物带到他面前。当我们用所拥有的财物来敬奉他时,他就会像五饼二鱼那样使我们所有的倍增。圣经上说:"要给人,就必有给你们的;并且要用十足的升斗,连按带摇,上尖下流地倒在你们怀里;因为你们用甚么升斗量给人,就必用甚么升斗量给你们。"(路加福音 6:38)我们当纳的十一奉献使天上的窗户敞开,进而领受神赐给我们的福分;与此同时,神必斥责那破坏和盗窃的吞噬者。(玛拉基书 3:10)
当我们敬拜时,天堂降临。以赛亚6:1-3说:"乌西雅王去世那年,我看见主坐在高高的宝座上,他的衣裳垂下,充满圣殿。在他上面有撒拉弗侍立,各有六个翅膀;用两个翅膀遮脸,两个翅膀遮脚,两个翅膀飞翔。他们彼此高呼着说:'圣哉!圣哉!圣哉!万军之耶和华!他的荣光充满全地。'" 敬拜时有神的荣耀在我们当中。
天堂里不分时间季节,只有源源不断的赞美敬拜。圣经启示录19:1说:"这些事以后,我听见天上好象有一大群人大声说:"哈利路亚!救恩、荣耀、权能都属于我们的 神。"如果在地上敬拜时我们感到不自在,那么天堂对你来说就不会是一个快乐的地方。
敬拜使我们受膏成为见证人。当牧羊人来敬拜时,他们出去告诉其他人耶稣诞生的好消息。当敬拜者真心敬拜时,他们必出去告诉世人神的作为。其次,智者带着礼物来朝拜。真正的敬拜者必然顺服。"后来他们在梦中得着指示不要回到希律那里去,就从别的路回乡去了。"(马太福音 2:12)身为重生的基督徒,不管是不是在教会,让敬拜成为我们每一天的生活方式。