August 14, 2021
KEYS TO REJOICING FAITH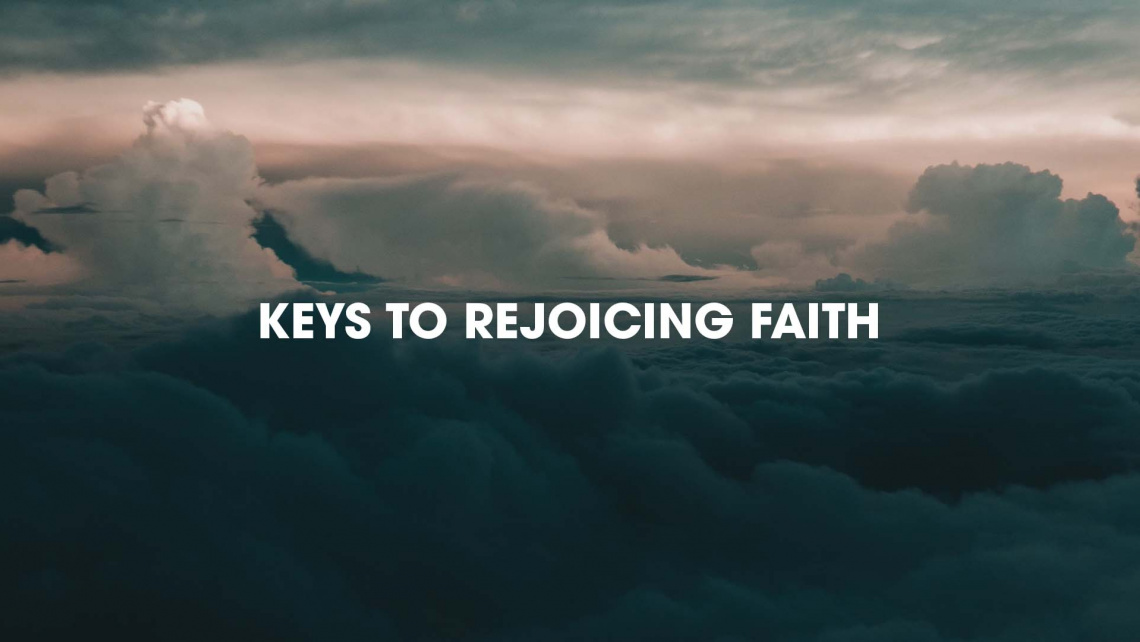 God wants us to have victory. He has called us to be overcomers. The Bible says, "For whatever is born of God overcomes the world. And this is the victory that has overcome the world - our faith" (1 John 5:4). As a child of God, you have the measure of faith to believe that God is able to give you the victory no matter how tough the battle is. Jesus says to all seven churches in the book of Revelation, "He who overcomes shall inherit all things, and I will be his God and he shall be My son" (Revelation 21:7). If you are born of God, you are an overcomer who endures to the end and will receive the blessings that God promised.
You can believe and rejoice because you cannot lose when your faith is in Jesus. Paul gives you three reasons why nothing can get you down:
1. God is for you.
The Bible says, "If God is for us, who can be against us? He who did not spare His own Son, but delivered Him up for us all, how shall He not with Him also freely give us all things" (Romans 8:31-32). If God is for you, then you cannot lose. You and God are the majority.
2. God justifies you in Jesus.
The Bible says, "Who shall bring a charge against God's elect? It is God who justifies" (Romans 8:33). Paul uses the illustration of a courtroom. You are presented as the one to be judged. The prosecutor brings all kinds of accusations against you. But Jesus justifies every accusation that Satan hurls at you. Jesus has paid the price for your sins, so you are set free from any condemnation or accusation. You are not a victim.
3. Christ intercedes for you.
The Bible says, "Who is he who condemns? It is Christ who died, and furthermore is also risen, who is even at the right hand of God, who also makes intercession for us" (Romans 8:34). How assuring to know that we always have someone praying for us, and that someone is none other than Jesus! Besides, the Bible tells us nothing can separate us from the love of God. "Who shall separate us from the love of Christ? Shall tribulation, or distress, or persecution, or famine, or nakedness, or peril, or sword?" (Romans 8:35). Jesus is interceding for you. God wants you to be an overcomer and not live in defeat.
A believer can rejoice always, even in the bad times. You do not rejoice over the bad times, but you rejoice over what God can do while you are in bad times. Paul tells us to rejoice, "Rejoice in the Lord always. Again I will say, rejoice!" (Philippians 4:4) for a very good reason. He says, "Therefore, having been justified by faith, we have peace with God through our Lord Jesus Christ, through whom also we have access by faith into this grace in which we stand, and rejoice in hope of the glory of God. And not only that, but we also glory in tribulations, knowing that tribulation produces perseverance; and perseverance, character; and character, hope. Now hope does not disappoint, because the love of God has been poured out in our hearts by the Holy Spirit who was given to us" (Romans 5:1-5).
We rejoice even though we may be inflicted with stripes on our back, because what is happening in us is far more valuable. While we are in the tribulation, we rejoice because of who we are in Christ. He is our Saviour and Master. Not only that, we glory in tribulation knowing that tribulation produces perseverance and perseverance produces character. God is after our character and character does not come easily because of our sinful nature. God allows us to go through tribulations so that we can see our real selves and learn to depend on Him more. Positions and titles do not give us character. But the tough times we go through cause us to be disciplined and that gives us character. The Holy Spirit is very important to our everyday living. To know, experience and appreciate the joy and love of God, be filled in the Holy Spirit. The Holy Spirit pours His love into our hearts.
The following are four keys that help you to have the victorious, rejoicing faith God wants for you:
1. Know your position as a Christian.
Paul identifies three important facts about our position as believers. Firstly, we have been justified. Being justified means just as if we have not done wrong. Paul explains that knowing we have been justified by Jesus gives us a standing, by which we can relate to God. We are justified through the blood of Jesus Christ shed on the cross of Calvary. Jesus paid the price for all our imperfections. Thus, we can stand before God and not run and hide like Adam and Eve did. Knowing the position, "in which we stand" (Romans 5:2), enables us not to be defeated.
Secondly, we have peace with God. There is a difference between having peace with God and having the peace of God. Having peace with somebody is having friendship with somebody. There is a relationship. At one time, we were at enmity with God. We did not have peace with God. We were sinners, doing our own thing and had no desire for the things of God (Ephesians 2:11-18). God took the initiative and made a way for us to be reconciled with Him. When the Gospel was preached and we received Christ, we were born into the family of God resulting in our hearts and minds having the peace of God.
Thirdly, we have access to His grace. The Bible says that now we are justified and have peace with God, we are able to enter into the presence of God. This allows us to believe and receive what God has for us. We have access by faith into the very presence of God.
2. Let patience have its perfect work.
The Bible says, "But let patience have its perfect work, that you may be perfect and complete, lacking nothing" (James 1:4). We must persevere and not give up so easily. Patience is the ability to bear up the pressure or weight. It is not human strength but spiritual. When facing the pressures of life, we persevere. We do not throw it off like a weightlifter. We have it under control. Perseverance is the ability to be stable under pressure and not let go. The Bible says you can, simply because you are in the position to do so. Your part is to lift it up and God gives you the strength to be an overcomer and be victorious.
You need to withstand the pressure from three sources. Firstly, the flesh that puts pressure on you to give in to fleshly appetites, greed and pride. Secondly, the world that puts pressure on you to succumb to worldly fashion, music and leisure activities and thirdly, the devil that puts pressure on you to fear, doubt, to disobey and to yield to temptations.
Letting patience work in us is to allow the life of Jesus to flow. Patience bears fruits and it brings God's intended purpose for us.
3. Understand the operation of hope.
The world does not offer hope. The saying, "Cross my heart and hope to die" is a disappointing picture of hope that the world has. But to the believer, "Hope does not disappoint, because the love of God has been poured out in our hearts by the Holy Spirit who was given to us" (Romans 5:5). We are to live and not die. Do not lose your hope. Get in position and put your hope in Jesus Christ. Faith and hope are twins. Faith comes by knowing the Word and it gives you hope. The Bible says, "Faith is the substance of hope" (Hebrews 11:1). Hope gives you the ability to see it in the mind's eye. Hope gives you the anticipation that it will happen. You are excited because you can see it. To see the dream fulfilled, you have to have the dream first. Faith is the spiritual force; the dream is the inspiration. Satan loves to shatter your hope. Hope in faith gives you a believing, rejoicing lifestyle.
4. Appreciate the love of God.
Satan's success is to get you to believe God does not love you. It is important to appreciate the love of God so that when tribulation comes, you will not be tempted to doubt the love of God. Let the Holy Spirit fill you with the love of God, again and again. Paul emphasizes, "Who shall separate us from the love of Christ? Shall tribulation, or distress, or persecution, or famine, or nakedness, or peril, or sword?" (Romans 8:35). Do not doubt God's love. He allows challenges to come your way to build your character. Persevere because of hope. Rejoice that He has destined you for victory by the power of the Holy Spirit.
As long as you live, the pressures of the flesh, the world and the devil will challenge you. But praise God, you have the victory through Christ. Believe and rejoice! Let joy be the expression of your faith.
This article is a chapter taken from the book, "Rising Above the Storms of Life: Faith that Overcomes!" by Senior Pastor Prince Guneratnam
All Scripture references are taken from the New King James Version (NKJV)
---
KUNCI KEPADA IMAN YANG BERSUKACITA
Oleh Pendita Kanan Prince Guneratnam
Tuhan ingin kita memiliki kemenangan. Dia telah memanggil kita untuk menjadi pemenang. Alkitab berkata, "sebab semua yang lahir dari Tuhan, mengalahkan dunia. Dan inilah kemenangan yang mengalahkan dunia: iman kita" (1 Yohanes 5:4). Sebagai anak Tuhan, kamu memiliki ukuran iman untuk percaya bahawa Tuhan mampu memberi kamu kemenangan tidak kira betapa sukarnya pertempuran itu. Yesus berkata kepada ketujuh gereja dalam kitab Wahyu, "Barangsiapa menang, ia akan memperoleh semuanya ini, dan Aku akan menjadi Tuhannya dan ia akan menjadi anak-Ku" (Wahyu 21:7). Jika kamu dilahirkan dari Tuhan, kamu adalah seorang pemenang yang bertahan sampai akhir dan akan menerima berkat-berkat yang dijanjikan Tuhan.
Kamu boleh percaya dan bersukacita kerana kamu tidak akan tewas ketika iman kamu berada di dalam Yesus. Paulus memberi kamu tiga musabab kenapa tiada sesuatu pun yang boleh membuatkan kamu kecewa:
1. Tuhan memihak kamu.
Alkitab berkata, "Jika Tuhan di pihak kita, siapakah yang akan melawan kita? Ia, yang tidak menyayangkan Anak-Nya sendiri, tetapi yang menyerahkan-Nya bagi kita semua, bagaimanakah mungkin Ia tidak mengaruniakan segala sesuatu" Roma 8:31-32). Jika Tuhan di pihak kamu, maka kamu tidak akan tewas. Kamu dan Tuhan adalah majoriti.
2. Tuhan membenarkan kamu di dalam Yesus.
Alkitab berkata, "Siapakah yang akan menggugat orang-orang pilihan Tuhan? Tuhan, yang membenarkan mereka" (Roma 8:33). Paulus menggunakan contoh sebuah mahkamah. Kamu sebagai orang yang akan diadili. Pendakwa raya mengajukan segala macam tuduhan terhadap kamu. Tetapi Yesus membenarkan setiap tuduhan yang dilontarkan Iblis kepada kamu. Yesus telah menebus dosa-dosa kamu, oleh itu kamu dibebaskan daripada sebarang penghukuman atau tuduhan. Kamu bukanlah pemangsa.
3. Kristus bersyafaat untuk kamu.
Alkitab berkata, "Siapakah yang akan menghukum mereka? Kristus Yesus, yang telah mati? Bahkan lebih lagi: yang telah bangkit, yang juga duduk di sebelah kanan Tuhan, yang malah menjadi Pembela bagi kita?" (Roma 8:34). Betapa meyakinkan untuk mengetahui bahawa kita sentiasa ada seseorang yang berdoa untuk kita, dan orang itu adalah Yesus! Justeru, Alkitab memberi tahu kita bahawa tidak ada yang dapat memisahkan kita dari kasih Tuhan. "Siapakah yang akan memisahkan kita dari kasih Kristus? Penindasan atau kesesakan atau penganiayaan, atau kelaparan atau ketelanjangan, atau bahaya, atau pedang?" (Roma 8:35). Yesus berdoa syafaat untuk kamu. Tuhan ingin kamu menjadi pemenang dan bukan hidup dalam ketewasan.
Seorang umat boleh selalu bersukacita, bahkan di saat-saat yang buruk. Kamu tidak bersukacita atas masa-masa sulit, tetapi kamu bersukacita atas apa yang Tuhan dapat lakukan saat kamu berada di masa-masa sulit. Paulus memberitahu kita untuk bersukacita, "Bersukacitalah senantiasa dalam Tuhan! Sekali lagi kukatakan: Bersukacitalah!" (Filipi 4:4) untuk musabab yang sangat bagus. Dia berkata, "Sebab itu, kita yang dibenarkan karena iman, kita hidup dalam damai sejahtera dengan Tuhan oleh karena Tuhan kita, Yesus Kristus. Oleh Dia kita juga beroleh jalan masuk oleh iman kepada kasih karunia ini. Di dalam kasih karunia ini kita berdiri dan kita bermegah dalam pengharapan akan menerima kemuliaan Tuhan. Dan bukan hanya itu saja. Kita malah bermegah juga dalam kesengsaraan kita, karena kita tahu, bahwa kesengsaraan itu menimbulkan ketekunan, dan ketekunan menimbulkan tahan uji dan tahan uji menimbulkan pengharapan. Dan pengharapan tidak mengecewakan, karena kasih Tuhan telah dicurahkan di dalam hati kita oleh Roh Kudus yang telah dikaruniakan kepada kita." (Roma 5:1-5).
Kita bersukacita walau pun kita dikenakan sebatan, kerana apa yang terjadi dalam diri kita jauh lebih berharga. Sementara kita berada dalam kesengsaraan, kita bersukacita kerana siapa kita di dalam Kristus. Dia adalah Juruselamat dan Tuan kita. Bukan itu sahaja, kita bermegah dalam kesengsaraan kerana mengetahui bahawa kesengsaraan menghasilkan ketekunan dan ketekunan menghasilkan karakter. Tuhan menghendaki karakter dan karakter kita tidak datang dengan mudah kerana sifat dosa kita. Tuhan mengizinkan kita melalui kesengsaraan sehingga kita dapat mengenali diri kita yang sebenarnya dan belajar untuk lebih bergantung padaNya. Kedudukan dan gelaran tidak memberi kita karakter. Tetapi masa-masa kesulitan yang kita lalui menyebabkan kita berdisiplin dan itu memberi kita karakter. Roh Kudus sangat penting bagi kehidupan harian kita. Untuk mengetahui, mengalami dan menghargai sukacita dan kasih Tuhan, dipenuhilah dengan Roh Kudus. Roh Kudus mencurahkan kasihNya ke dalam hati kita.
Berikut ini adalah empat kunci yang membantu kamu untuk memiliki iman yang penuh kemenangan dan sukacita yang Tuhan inginkan bagi kamu:
1. Ketahui kedudukan kamu sebagai seorang Kristen.
Paulus mengidentifikasikan tiga fakta penting tentang kedudukan kita sebagai orang percaya. Pertama, kita telah dibenarkan. Dibenarkan bererti seolah-olah kita tidak melakukan kesalahan. Paulus menjelaskan bahawa mengetahui bahawa kita telah dibenarkan oleh Yesus memberi kita kedudukan, yang dengannya kita dapat berhubungan dengan Tuhan. Kita dibenarkan melalui darah Yesus Kristus yang dicurahkan di kayu salib Calvary. Yesus melunaskan semua ketidaksempurnaan kita. Dengan demikian, kita dapat berdiri di hadapan Tuhan dan tidak lari dan bersembunyi seperti yang dilakukan Adam dan Hawa. Mengetahui kedudukan, "di mana kita berdiri" (Roma 5:2), mengupayakan kita untuk tidak ditewaskan.
Kedua, kita berdamai dengan Tuhan. Ada perbezaan antara memiliki kedamaian dengan Tuhan dan memiliki kedamaian Tuhan. Berdamai dengan seseorang bererti memiliki persahabatan dengan seseorang. Adanya satu hubungan. Pada suatu ketika, kita bermusuhan dengan Tuhan. Kita tidak memiliki damai sejahtera dengan Tuhan. Kita orang berdosa, melakukan urusan kita sendiri dan tidak memiliki keinginan untuk hal-hal Tuhan (Efesus 2:11-18). Tuhan mengambil inisiatif dan membuka jalan bagi kita untuk berdamai denganNya. Ketika Injil diberitakan dan kita menerima Kristus, kita dilahirkan ke dalam keluarga Tuhan sehingga hati dan fikiran kita memiliki damai sejahtera Tuhan.
Ketiga, kita memiliki laluan kepada kasih karuniaNya. Alkitab mengatakan bahawa sekarang kita dibenarkan dan memiliki damai sejahtera dengan Tuhan, kita dapat memasuki hadirat Tuhan. Ini membolehkan kita mempercayai dan menerima segala yang Tuhan sediakan untuk kita. Kita memiliki laluan melalui iman ke dalam hadirat Tuhan.
2. Biar kesabaran mencapai kesempurnaan kerjanya.
Alkitab berkata, "Dan biarkanlah ketekunan itu memperoleh buah yang matang, supaya kamu menjadi sempurna dan utuh dan tak kekurangan suatu apapun" (Yakobus 1:4). Kita harus bertahan dan tidak mudah menyerah. Kesabaran adalah kemampuan untuk menanggung tekanan atau beban. Ianya bukan kekuatan manusia tetapi rohani. Ketika menghadapi tekanan hidup, kita bertahan. Kita tidak membuangnya seperti ahli sukan angkat berat. Kita dapat mengawalnya. Ketekunan adalah kemampuan untuk menjadi stabil di bawah tekanan dan tidak melepaskannya. Alkitab mengatakan kamu boleh, hanya kerana kamu berada dalam kedudukan untuk melakukannya. Peranan kamu untuk mengangkatnya dan Tuhan memberi kamu kekuatan untuk menjadi pemenang dan memperoleh kemenangan.
Kamu perlu menahan tekanan dari tiga sumber. Pertama, daging yang meletakkan tekanan atas diri kamu untuk menyerah pada selera kedagingan, ketamakan dan keangkuhan. Kedua, dunia yang meletakkan tekanan atas kamu untuk menyerah pada fesyen duniawi, muzik dan aktiviti-aktivit rekreasi dan ketiga, iblis yang memberi tekanan ke atas kamu untuk berasa takut, meragui, melawan dan menyerah kepada godaan.
Membiarkan kesabaran bekerja dalam diri kita bererti membenarkan kehidupan Yesus mengalir. Kesabaran menghasilkan buah dan ia memenuhi rencana Tuhan untuk kita.
3. Memahami operasi harapan.
Dunia tidak menawarkan harapan. Pepatah, "Janji harus dibawa mati" adalah gambaran harapan yang mengecewakan yang dimiliki dunia. Tetapi bagi orang yang beriman, "Pengharapan tidak mengecewakan, karena kasih Tuhan telah dicurahkan di dalam hati kita oleh Roh Kudus yang telah dikaruniakan kepada kita" (Roma 5: 5). Kita harus hidup dan jangan mati. Jangan putus harapan. Dapatkan kedudukan dan letakkan harapan kamu dalam Yesus Kristus. Iman dan harapan adalah kembar. Iman datang dengan mengetahui Firman Tuhan dan itu memberi kamu harapan. Alkitab mengatakan, ". Iman adalah dasar dari segala sesuatu yang kita harapkan." (Ibrani 11: 1). Harapan memberi kamu kemampuan untuk melihatnya di mata minda. Harapan memberi kamu jangkaan bahawa ia akan berlaku. Kamu teruja kerana kamu dapat melihatnya. Untuk melihat kenyataan impian, kamu mesti mempunyai impian terlebih dahulu. Iman adalah kekuatan rohani; impian adalah inspirasinya. Iblis suka menghancurkan harapan kamu. Harapan dalam iman memberi kamu satu gaya hidup yang percaya dan menggembirakan.
4. Menghargai kasih Tuhan.
Kejayaan iblis adalah membuat kamu percaya bahawa Tuhan tidak mengasihi kamu. Adalah penting untuk menghargai kasih Tuhan agar ketika kesengsaraan datang, kamu tidak akan tergoda untuk meragui kasih Tuhan. Benarkan Roh Kudus berterusan mengisi kamu dengan kasih Tuhan. Paulus menegaskan, "Siapakah yang akan memisahkan kita dari kasih Kristus? Penindasan atau kesesakan atau penganiayaan, atau kelaparan atau ketelanjangan, atau bahaya, atau pedang?" (Roma 8:35). Jangan meragui kasih Tuhan. Dia membiarkan cabaran datang untuk membina karakter kamu. Bertabahlah kerana harapan. Bersukacitalah bahawa Dia telah mentakdirkan kamu untuk kemenangan dengan kekuatan Roh Kudus.
Selagi kamu masih hidup, tekanan daging, dunia dan iblis akan mencabar kamu. Tetapi puji Tuhan, kamu mendapat kemenangan melalui Kristus. Percaya dan bersukacita! Biarkan sukacita menjadi ungkapan iman anda.
Petikan ini adalah satu bab yang diambil dari buku, "Bangkit di Atas Ribut Kehidupan: Iman yang Mengatasi!" oleh Pendita Kanan Prince Guneratnam
Semua rujukan Alkitab adalah dari Alkitab Bahasa Indonesia
---
神叫我们要得胜。他呼召我们成为得胜者。圣经上说:"因为凡从 神生的就胜过世界。使我们胜过世界的,就是我们的信心。"(约翰壹书 5:4)身为神的孩子,无论挑战多么艰巨你都能凭信心相信,神叫你得胜。启示录中记载耶稣对七个教会说:"得胜的,必要承受这些福分。我要作他的 神,他要作我的儿子。"(启示录 21:7)只要你是神的孩子,你就能坚忍到底成为得胜者,承受神所应许的福分。
你要欢喜相信,只要你信靠耶稣,你便不会被击败。保罗告诉你不被击败的三点:
1. 神这样为你
圣经上说:" 神若这样为我们,谁能敌对我们呢?他连自己的儿子都舍得,为我们众人把他交出来,难道不也把万有和他一同白白地赐给我们吗?"(罗马书 8:31-32)神若这样为你,你就不会被击败。你与神必得胜。
2. 神在基督里称你为义
圣经上说:"谁能控告 神拣选的人呢?有 神称我们为义了。"(罗马书 8:33)保罗以法庭作为例子。你是等待审判的被告人。检控官对你提出了各项指控。耶稣却为你辩解撒旦对你提出的每一项控诉。耶稣已经为你的罪付出代价,使你摆脱谴责与控诉。你不再是受害者。
3. 基督为你代求
圣经上说:"谁能定我们的罪呢?有基督耶稣死了,而且复活了,现今在 神的右边,也替我们祈求。"(罗马书 8:34)知道有人一直在为我们祷告,而这个人不是别人,正是耶稣,是多么令人安心啊!此外,圣经还告诉我们没有人能使我们与神的爱隔绝。"谁能使我们与基督的爱隔绝呢?是患难吗?是困苦吗?是迫害吗?是饥饿吗?是赤身露体吗?是危险吗?是刀剑吗?"(罗马书 8:35)耶稣正为你代求。神要你成为得胜者,而不是活在挫败中。
即使处于逆境,基督徒也可以常常喜乐。你不是为逆境欢喜,而是在逆境中为神的大能欢喜。保罗叫我们要靠着主喜乐:"你们要靠着主常常喜乐,我再说,你们要喜乐。"(腓立比书 4:4)他说:"所以,我们既然因信称义,就借着我们的主耶稣基督与 神和好;我们也凭着信,借着他可以进入现在所站的这恩典中,并且以盼望得享 神的荣耀为荣。不但这样,我们更以患难为荣;知道患难产生忍耐,忍耐产生毅力,毅力产生盼望;盼望是不会令人蒙羞的,因为 神借着所赐给我们的圣灵,把他的爱浇灌在我们的心里。"(罗马书 5:1-5)
即使身受鞭伤我们也要欢喜,因为知道我们经历的恩典更为珍贵。当我们遭受患难,要因在基督里而欢喜。他是主,是我们的救主。不但这样,我们要以患难为荣,知道患难产生忍耐,忍耐产生毅力。神要建立我们的毅力,可是基于我们的罪性,毅力并不容易被建立。神允许我们遭受患难,借此让我们认识自我,并学习更加依靠他。职称与头衔并不能培养我们的毅力。唯经历患难才能让我们自律,培养毅力。圣灵是我们每一天生活中所不可或缺的。要被圣灵充满,当认识,经历并珍惜神的爱和他所赐的喜乐。圣灵把神的爱浇灌到我们心里。
以下四个关键是神如何让你得胜,并因神所赐的信心欢喜快乐:
1. 知道你作为基督徒的身份
保罗指出让我们拥有基督徒身份的三个重点。首先,我们被称为义。被称为义即表示我们没有罪。保罗解释说,我们既被称为义就借着耶稣站在恩典中,与神和好。我们是借着耶稣基督在加略山十字架上流下的宝血而称义。耶稣已经为我们的罪付上代价。因此,我们可以见神的面,不像亚当和夏娃一样躲避神。知道我们是借着耶稣站在恩典中(罗马书 5:2)叫我们不被击败。
第二,我们与神和好。与神和好与有神的平安是有区别的。与人和好是与他建立友谊。那是关系。曾经,我们与神为敌,以致没有与神和好。我们曾是罪人,专注于自己的事,不渴望神的国(以弗所书 2:11-18)。是神主动设法让我们与他和好。他把福音传给我们,我们一旦接受基督,便成为了神家中的人,这样我们的心思意念也就得到了神的平安。
第三,我们可以领受他的恩典。圣经上说,现在我们被称为义,与神和好,就可以见神的面。这使我们能够领受神为我们预备的恩典。我们可以凭信心来到神的面前。
2. 忍耐要坚持到底
圣经上说:"但忍耐要坚持到底,使你们可以完全,毫无缺乏。"(雅各书 1:4)我们要忍耐,不轻易放弃。忍耐就是承受压力和重担的能力。不是靠人的能力,而是靠属灵的力量。当我们面对生活的重担时,要有毅力。不要像举重选手一样把杠铃扔掉。我们要控制它。毅力是在承担压力时依然保持稳定,不放手。圣经告诉你,你可以做到。因为你只是负责把它举起来,神赐给你力量战胜并成为得胜者。
你要禁得住三种压力。第一种源自于肉体,包括了食欲、贪婪和骄傲。第二种来自世界,它让你屈服于属世的时尚、音乐和休闲活动。第三种来源于撒旦,它让你害怕、怀疑、不顺服,接着屈服于诱惑。
让忍耐在我们里面工作,就是让耶稣的生命流淌在我们里面。忍耐结出果实,使神的旨意成就在我们身上。
3. 知道如何操练盼望
这个世界缺乏盼望。但是基督徒相信:"盼望是不会令人蒙羞的,因为 神借着所赐给我们的圣灵,把他的爱浇灌在我们的心里"(罗马书 5:5)。神赐予我们的是生命,而非灭亡。因此不要失去盼望。让我们摆正心态,将盼望寄托在耶稣基督里。信心和盼望是一体的。信心源自于认识神的话,神的话给你带来盼望。圣经上说:"信就是对所盼望的事的把握,是还没有看见的事的明证。"(希伯来书 11:1)盼望让你能用心眼看见它。盼望让你预先知道它会发生。你兴奋,是因为你可以预先看到它。人要想实现梦想,首先得有梦想。信心是属灵力量;而梦想是灵感。撒旦渴望粉碎你的盼望。有信心的盼望带给你欢喜相信的生活方式。
4. 感谢神的爱
撒旦的诡计是要让你相信神并不爱你。当感谢神对你的爱,即使患难临到,也不轻易被试探以致怀疑神的爱。让圣灵不断地用神的爱浇灌你。保罗强调说:"谁能使我们与基督的爱隔绝呢?是患难吗?是困苦吗?是迫害吗?是饥饿吗?是赤身露体吗?是危险吗?是刀剑吗?"(罗马书 8:35)不要怀疑神的爱。他允许你经历患难为的是塑造你的毅力。当坚持,因为我们有盼望。要欢喜快乐,因为他借着圣灵的大能让你必然得胜。
今天只要你仍活着,就必然经历从肉体、世界和撒旦而来的挑战与压力。但是感谢赞美神,你借着基督得胜。要欢喜相信,以欢喜快乐来展现你的信心。
文章取自主任牧师一书:《克服生命风暴:凭信心超越》
圣经经文摘自新译本圣经