June 10, 2022
Living a Life of Simplicity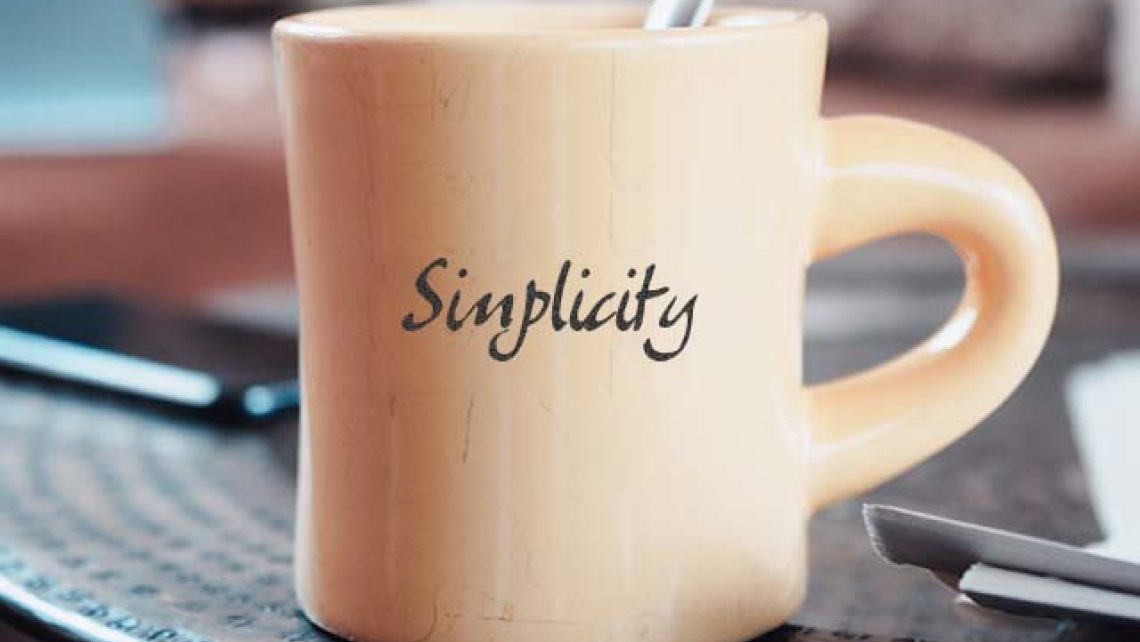 In the wake of transitioning into endemicity, it is observed that there is a tendency to try to catch up with what we think we may have lost in the past two years. Thus, we may have given in to the pent-up feelings of amassing, buying and cluttering our lives with things.
Amidst the rush to yield to such tendency, it is only wise that we take time to pause, reflect and understand how we can stay true to the life God meant us to live, which is to live a life of simplicity.
Christian theologian and author Richard Foster observed that we often find ourselves trapped by attachment to things and the opinions of others while trying to pursue a fulfilling life. Someone made this apt statement about attachment to things, "We buy things we do not need, to impress the people we do not like." There is a certain amount of truth in this statement, isn't it?
Foster gives us three key attitudes to simplicity. If what we have we receive as a gift, and if what we have is to be cared for by God, and if what we have is available to others, when it is clearly right and good, then we are living in simplicity.
But if what we have we feel we alone have gotten, and if what we have, we believe we must hold on to and if what we have is not available to others when it is clearly right and good to make it available, then we are living in duplicity, which is the opposite of simplicity.
Simplicity is freedom. Duplicity is bondage. Simplicity brings joy and balance. Duplicity brings anxiety and fear. So, you may ask, how does a life of simplicity look like? For example, when it comes to buying stuff big or small, we can think in terms of buying them for their usefulness rather than for their status. Or we can learn to reject anything that may potentially produce an addiction in us.
These could include food and drinks, binge watching, computer gaming, excessive buying, indulging in social media, and so on. Or we can learn to enjoy many things without needing to own them. And the things we do own, we can feel free to share with others who are in need.
In conclusion, may God give us the courage, wisdom and strength to live in simplicity, with all that God has entrusted to us, however little or however much, especially in the way we steward our time, our resources and the way we invest in our relationships.
"So don't worry about these things, saying, 'What will we eat? What will we drink? What will we wear?' These things dominate the thoughts of unbelievers, but your heavenly Father already knows all your needs. Seek the Kingdom of God above all else, and live righteously, and he will give you everything you need" (Matthew 6: 31 – 33)
---
简朴生活
最近观察到在疫情过渡到地方性流感期间,一些人试图追回我们认为失去的两年时光。因此,当中有些人选择放纵压抑的情绪,疯狂购物并让生活杂乱无章。
尽管身边有许多人随波逐流,我们仍要理智地停下来,反思并了解如何才能忠于神要我们过的生活,尤其在这个非常时期,要如何明智地活在当中。
基督教神学家兼作家理查德·傅士德说,我们经常发现自己在努力追求充实的生活时,总会依恋一些事物,也会被其他人的意见左右。曾有人诠释什么是依恋事物。他说:"我们选择购买不需要的东西,来迎合我们不喜欢的人。"这句话有一定的道理,不是吗?
傅士德告诉我们三个关于简朴生活的关键态度。
若我们所拥有的:
1.我们视它为神所赐的礼物;
2.我们知道神会看顾;
3.只要对别人也是好的便愿意与他人分享;
那么,我们就是生活在简朴之中。
但是,当我们所拥有的:
1.我们觉得是凭自己得到的;
2.我们认为都在自己的掌管中;
3.即使对别人是好的,却不乐意与他人分享;
那么,我们就是虚伪的,与简朴生活背道而驰。
简朴即自由;虚伪即束缚。简朴带来喜乐平衡;虚伪迎来焦虑恐惧。或许,你会问,简朴生活是什么样的?举个例子,不论在考虑购买大的还是小的物品时,我们从实用性角度考量而非品牌。又或是我们能试着拒绝任何可能让我们上瘾的事物。
其中包括饮食;追剧;打电动;疯狂购物;沉迷于社交媒体等等。我们可以试着欣赏许多东西却不需将其占为己有。再者,我们所拥有的东西,愿意与有需要的人分享。
最后,愿神赐予你勇气、智慧和力量过简朴的生活,用神所托付给你的一切,无论多少,妥善地管理时间、资源和人际关系。
"所以不要忧虑,说:'我们该吃甚么?喝甚么?穿甚么?' 这些都是教外人所寻求的,你们的天父原知道你们需要这一切。你们要先求他的国和他的义,这一切都必加给你们。"(马太福音 6:31-33)
---
Hidup yang Sederhana
Baru-baru ini diperhatikan, bahawa berikutan peralihan kepada endemisitas, terdapat kecenderungan untuk sesetengah orang cuba mengejar apa yang kita fikir kita mungkin telah hilang dalam dua tahun yang lalu. Oleh itu, sesetengah daripada kita mungkin menyerah kepada perasaan terpendam untuk mengumpul, membeli barang dan menyepahkan kehidupan kita.
Ahli teologi Kristian dan pengarang Richard Foster berkata, kita sering mendapati diri kita, semasa cuba mengejar kehidupan yang memuaskan, kita terperangkap oleh keterikatan kepada sesuatu dan kita terperangkap oleh pendapat orang lain. Seseorang berkata tentang keterikatan pada sesuatu. Dia berkata ini "Kita membeli benda-benda yang kita tidak perlukan, untuk menarik perhatian orang yang kita tidak suka". Terdapat sejumlah kebenaran dalam kenyataan ini, bukan?
Foster memberi kita tiga sikap utama dalam kesederhanaan.
Jika apa yang kita ada:
1. kita boleh terima sebagai anugerah daripada Tuhan
2. kita tahu ia adalah untuk dipelihara oleh Tuhan
3. boleh diberikan kepada orang lain apabila ia jelas betul dan baik,
maka kita hidup dalam kesederhanaan.
Tetapi jika, apa yang kita ada:
1. kita merasakan bahawa kita seorang sahaja telah mendapat;
2. kita percaya terpulang kepada kita untuk berpegang kepadanya;
3. kita tidak dapat memberi kepada orang lain apabila ia jelas betul dan baik untuk diberikan,
maka kita hidup dalam duplikasi, yang bertentangan dengan kesederhanaan.
Kesederhanaan adalah kebebasan. Duplikasi adalah belenggu. Kesederhanaan membawa sukacita dan keseimbangan. Duplikasi membawa kebimbangan dan ketakutan. Jadi, kamu mungkin bertanya, bagaimana rupa kehidupan yang sederhana? Sebagai contoh, apabila masa untuk membeli barangan besar atau kecil, kita boleh berfikir dari segi membelinya untuk kegunaannya dan bukannya untuk statusnya. Atau kita boleh belajar untuk menolak apa-apa yang boleh menyebabkan ketagihan dalam diri kita.
Ini boleh termasuk makanan dan minuman; menonton dengan tidak berhenti; permainan komputer; pembelian yang berlebihan, terlibat dalam media sosial; dan sebagainya. Atau kita boleh belajar menikmati banyak perkara tanpa perlu memilikinya. Dan perkara yang kita miliki, kita boleh berasa bebas untuk berkongsi dengan orang lain yang memerlukan.
Kesimpulannya, semoga Tuhan memberi kamu keberanian, kebijaksanaan dan kekuatan untuk hidup dalam kesederhanaan, dengan semua yang Tuhan amanahkan kepada kamu walau sedikit atau sebanyak mana pun, terutamanya dalam cara kita menguruskan masa, sumber kita dan cara kita melabur dalam perhubungan.
"Sebab itu janganlah kamu kuatir dan berkata: Apakah yang akan kami makan? Apakah yang akan kami minum? Apakah yang akan kami pakai? Semua itu dicari bangsa-bangsa yang tidak mengenal Allah. Akan tetapi Bapamu yang di sorga tahu, bahwa kamu memerlukan semuanya itu. Tetapi carilah dahulu Kerajaan Allah dan kebenarannya, maka semuanya itu akan ditambahkan kepadamu" (Matius 6:31-33)