July 14, 2022
The Power of Compassion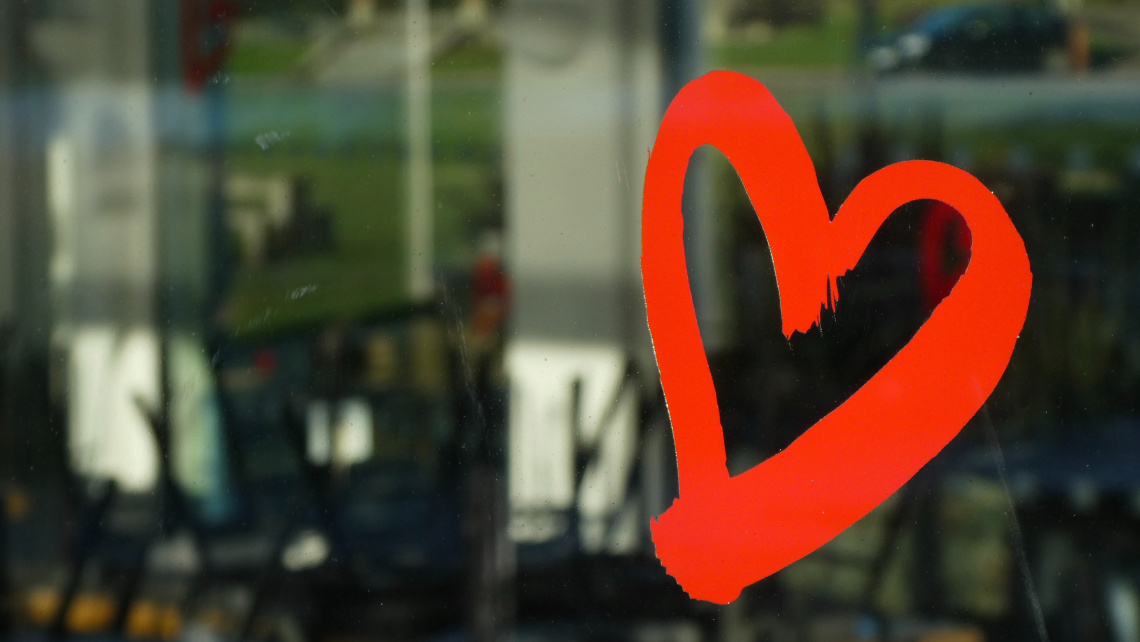 Have you ever been called to the principal's office? Most of us would never associate anything good with being called to the principal's office. Three troubled students sat nervously waiting for their turn outside the principal's office. They were not summoned; they asked to see the principal.
After that first encounter, they found themselves back again in the principal's office on their own accord the following week. I was one of the three and had no idea what was coming after the "counselling session" that day. I remember being awestruck as I looked unbelievably at the birthday cake in front of me, completely blown away by the sound of unrehearsed voices rendering the birthday song. That act of kindness and compassion extended to a distraught student who could not see the light at the end of the tunnel left an indelible impression on me. You've guessed right. . .that second "visit" to the principal's office was not the last. It became a "safe place" I knew I could go to when I didn't know who to turn to.
"Can I give you a ride home?" a cheery voice called from the mini car as I was half-way walking home from school which I respectfully declined. "How are you Mr. Chan? And how are your girls doing?" The surprise visit on a couple of occasions warmed my late father's heart and opened my eyes to glimpses of the unconditional love of the Heavenly Father. My warped perception of God up till that point was challenged by my unsolicited experiences of His gracious compassion. I saw it in action through this elderly saint who impacted countless through his office. That Christ-like compassion began to reshape my understanding of who God is. Years later, traumatized by a near fatal accident during a work assignment, I returned to that "safe place" and left as I did the first time, feeling understood and affirmed despite having messed up. Compassion lifted me from the dark pit of despair.
Jesus' entire ministry on earth was characterized by compassion. He felt compassion for those who suffered physically. Matthew 20:34 tells us, "Jesus had compassion on them and touched their eyes" [of the two blind men outside Jericho]. His heart went out to those in emotional distress. As He approached the town of Nain, He saw a funeral procession where a widow was going to bury her only son. He had compassion on her and said to her, "Do not weep" (Luke 7:13) and went on to restore the woman's son to life. Above all, He had compassion on the multitudes who were spiritually lost "because they were harassed and helpless, like sheep without a shepherd" (Matthew 9:36).
Matthew 9:35 sums up the comprehensiveness of Jesus' ministry, "Jesus went through all the towns and villages, teaching in their synagogues, proclaiming the good news of the kingdom and healing every disease and sickness." Acts 10:38 tells us "how God anointed Jesus of Nazareth with the Holy Spirit and power, and how he went around doing good and healing all who were under the power of the devil, because God was with him." His compassion was seen in ministering to the total person – soul, body, spirit.
Faith without works is dead (James 2:17). But as author Henri Nouwen puts it, "If we indeed are copying Christ, as Paul urged in 1 Corinthians 11:1, our compassion will not be limited to bodily needs. It will have soul needs as its supreme priority." Let us go and do likewise.
---
KUASA BELAS KASIHAN
Pernahkah kamu dipanggil ke pejabat pengetua? Kebanyakan kita tidak pernah mengaitkan sesuatu yang baik apabila dipanggil ke pejabat pengetua. Tiga pelajar yang bermasalah duduk gelisah menunggu giliran di luar pejabat pengetua. Tidak, mereka tidak dipanggil; mereka memanggil untuk berjumpa dengan pengetua. Mereka mendapati diri mereka kembali ke pejabat pengetua pada minggu berikutnya selepas pertemuan pertama.
Saya adalah salah seorang daripada mereka bertiga dan saya tidak tahu apa yang akan berlaku selepas "sesi kaunseling" pada hari itu. Saya masih ingat saya terpesona apabila melihat kek hari jadi di hadapan saya dengan rasa tidak percaya, benar-benar terpesona dengan bunyi suara yang tidak terlatih menyanyikan lagu hari jadi. Perbuatan baik dan belas kasihan yang diperluaskan kepada pelajar yang bingung dan yang tidak dapat melihat cahaya di hujung terowong telah meninggalkan kesan yang saya tidak dapat lupakan. Kamu telah meneka dengan betul… "lawatan" kedua ke pejabat pengetua itu bukanlah yang terakhir. Ia menjadi "tempat selamat" yang saya tahu saya boleh pergi apabila saya tidak tahu kepada siapa untuk berpaling.
"Boleh saya hantar kamu pulang?" kedengaran suara riang dari dalam sebuah kereta mini ketika saya pertengahan jalan pulang dari sekolah yang kemudiannya saya menolak dengan hormat. "Apa khabar Encik Chan? Dan bagaimana keadaan anak perempuan awak?" Lawatan mengejut itu telah beberapa kali menyenangkan hati arwah ayah saya dan membuka mata saya untuk melihat sekilas kasih Bapa Syurgawi yang tanpa syarat. Persepsi saya yang sesat tentang Tuhan sehingga saat itu telah dicabar oleh pengalaman yang tidak saya minta mengenai belas kasihanNya. Saya melihatnya melalui aksi orang tua yang baik ini telah memberi impak yang tidak terkira melalui kedudukannya sebagai pengetua. Belas kasihan seperti Kristus itu mula membentuk pemahaman saya tentang siapa Tuhan. Beberapa tahun kemudian, mengalami trauma selepas kemalangan yang hampir membawa maut semasa tugasan kerja, saya kembali ke "tempat selamat" itu dan kemudian meninggalkannya seperti yang pertama kali saya lakukan, berasa difahami dan diyakinkan walaupun telah bercelaru. Belas kasihan mengangkat saya dari jurang keputus-asaan yang gelap.
Seluruh pelayanan Yesus di bumi dicirikan dengan belas kasihan. Dia berasa belas kasihan kepada mereka yang menderita secara fizikal. Matius 20:34 memberitahu kita, "Yesus mengasihani mereka. Dia menyentuh mata mereka" [dua orang buta di luar Yerikho]. Hatinya tergerak oleh mereka yang mengalami tekanan emosi. Ketika Dia mendekati kota Nain, Dia melihat satu perarakan pengebumian di mana seorang janda yang sedang mengebumikan anak tunggalnya. Dia berbelas kasihan kepadanya dan berkata kepadanya, "Janganlah menangis" (Lukas 7:13) dan meneruskan untuk menghidupkan semula anak lelaki wanita itu. Di atas segalanya, Dia berbelas kasihan kepada orang ramai yang sesat secara rohani "kerana mereka risau dan tidak berdaya, seperti kawanan domba tanpa gembala" (Matius 9:36).
Matius 9:35 menyimpulkan keluasan pelayanan Yesus, "Yesus pergi dari satu bandar ke bandar lain dan dari satu pekan ke pekan lain. Dia mengajar di rumah ibadat dan mengkhabarkan Berita Baik bahawa Tuhan akan memerintah. Dia menyembuhkan orang daripada berbagai-bagai penyakit" Kisah Para Rasul 10:38 memberitahu kita "Tuhan telah memilih Yesus orang Nasaret itu dan memberi Dia Roh Tuhan dan kekuasaan. Yesus pergi ke serata tempat untuk berbuat baik dan menyembuhkan semua orang yang dikuasai oleh Iblis, kerana Tuhan menyertai Yesus" Belas kasihanNya dilihat dalam melayani seluruh bahagian orang – jiwa, badan, roh.
Iman tanpa perbuatan adalah mati (Yakobus 2:17). Tetapi seperti yang dikatakan oleh pengarang Henri Nouwen, "Jika kita memang meniru Kristus, seperti yang digesa Paulus dalam 1 Korintus 11:1, belas kasihan kita tidak akan terhad kepada keperluan jasmani. Ia akan mempunyai keperluan jiwa sebagai keutamaan tertingginya." Marilah kita pergi dan lakukan perkara yang sama.
---
怜悯的力量
你曾经被叫到校长室吗?我们大多数人不会把好事和被叫到校长室联系起来。三个问题学生紧张地坐在校长室外面等着被召见。他们不是因为犯事被召唤来的,他们只是被叫来见校长。距离上回第一次见校长后的第二周他们又被叫来校长室了。
我是三个人中的一个,我不知道见了校长后会发生什么事情。我记得,当我看着面前的生日蛋糕,耳边响起没有排练过的生日歌,我顿时目瞪口呆。那善意和怜悯的举动, 让迷失在隧道中,看不到前路的我,留下了深刻的印象。你猜对了,第二次进校长室并非最后一次。那里成了我的安全港湾,当我不知道该向谁求助时,那里是我可以去的地方。
"我可以载你回家吗?"放学回家的路上,愉悦的声音从一辆小汽车里传出来,我恭敬地拒绝了。"陈先生,你好。你女儿最近好吗?"几次的突然造访温暖了我已故父亲的心,也让我感受到天父无条件的爱。这改变了之前我对神扭曲的看法,我意外地体验到了他的恩典和怜悯。这位年长的基督徒在他的办公室影响了无数人。这种基督般的怜悯开始重塑我对神的认识。多年后,在一次工作任务中,我因为一次近乎致命的事故受到创伤,我再次回到那个安全港湾。离开时就像第一次那样,我不再感觉糟透了,而是感受到了理解和肯定。怜悯将我从绝望的黑暗深渊中解救出来。
耶稣以怜悯为怀地在世上服事。他同情身体受苦的人。马太福音 20 :34告诉我们:"耶稣就怜悯他们,摸他们的眼睛。" (就是耶利哥城外两个瞎眼的人)。他对情感受困的人心生怜悯。当他往拿因城去的时候看见送葬队伍,是一个寡妇要埋葬她唯一的儿子,就怜悯她,对她说:"不要哭!"(路加福音7:13),他使女人的儿子复活。更重要的是,他怜悯失丧的灵魂,"因为他们困苦无依,像没有牧人的羊一样。"(马太福音9:36)。
马太福音9:35全面总结了耶稣在世上的服事,"耶稣走遍各城各乡,在各会堂里教导人,宣扬天国的福音,医治各种疾病、各种病症。"使徒行传 10:38告诉我们:"神怎样用圣灵和能力膏立拿撒勒人耶稣。他到各处行善事,医好所有被魔鬼压制的人,因为神与他同在。"他的怜悯展现在全人服侍上——灵魂、肉体、心灵。
信心没有行为是死的(雅各书 2:17)。正如作家亨利·努文所说:"如果我们像保罗在哥林多前书11:1中所叮促那样,效法基督。我们的怜悯就不局限于身体需要,而是更优先考虑灵里的需要"。让我们像这样效法基督。