January 01, 2021
THE WALK OF FAITH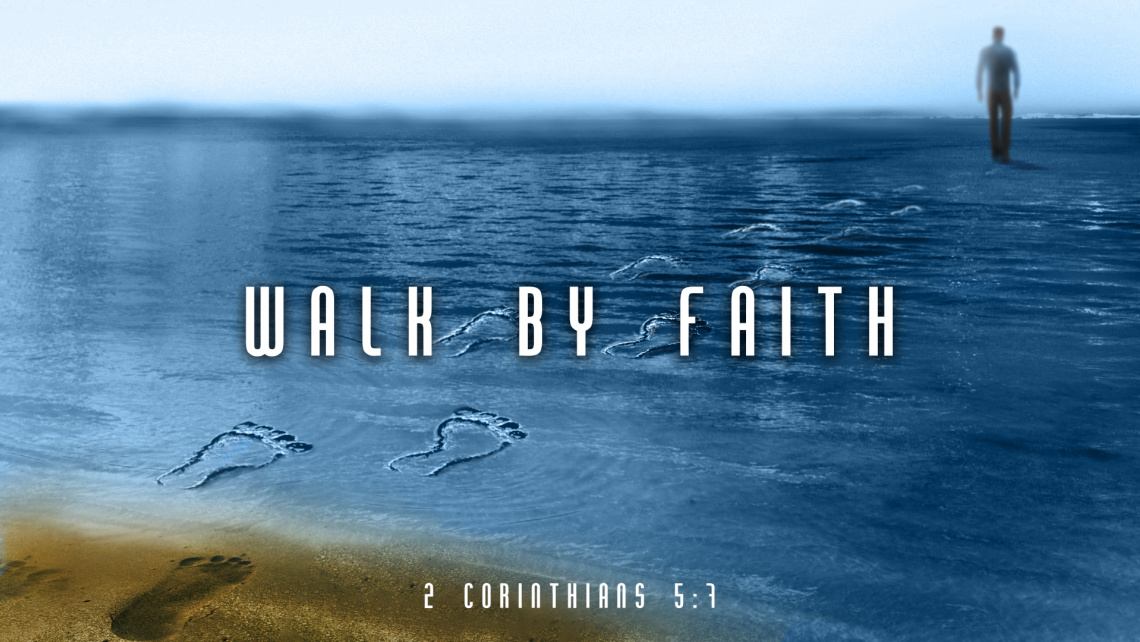 People want to see miracles but miracles do not happen if we do not walk by faith. Our biggest enemy is not the devil. It is the person we see in the mirror. The Apostle Paul found that he, himself, was the greatest hindrance. He said, "I have been crucified with Christ; it is no longer I who live, but Christ lives in me; and the life which I now live in the flesh I live by faith in the Son of God, who loved me and gave Himself for me" (Galatians 2:20). When we live the "Christ-in-us" life, we can expect miracles to happen.
Walking by faith is living our life with God. The only way we can live the Christ-life is through the empowerment and the anointing of the Holy Spirit. Obeying is an act of faith and disobedience brings curses. Without faith, you cannot trust God or obey Him. The Bible says, "But without faith it is impossible to please Him, for he who comes to God must believe that He is, and that He is a rewarder of those who diligently seek Him" (Hebrews 11:6). Without faith, doing the right things is being religious. The Prophet Isaiah said, "But we are all like an unclean thing, and all our righteousness are like filthy rags" (Isaiah 64:6).
We can learn much about walking by faith from the account in Exodus 14, of the deliverance of God's people, the Israelites, from the Egyptians.
1. God spoke to Moses
The Bible says, "Now the Lord spoke to Moses, saying: "Speak to the children of Israel, that they turn and camp before Pi Hahiroth, between Migdol and the sea, opposite Baal Zephon; you shall camp before it by the sea. For Pharaoh will say of the children of Israel, 'They are bewildered by the land; the wilderness has closed them in.' Then I will harden Pharaoh's heart, so that he will pursue them; and I will gain honor over Pharaoh and over all his army, that the Egyptians may know that I am the Lord." And they did so" (Exodus 14:1-4). God is a communicator. He reveals Himself and He will show Himself to us if we seek Him earnestly. God always uses individuals. He chose Moses and told him to deliver the Israelites from Egypt. When they were leaving Egypt, the land of bondage, they were led by a pillar of fire by night and a pillar of cloud by day. These were symbols of God leading them through the wilderness. The Jews were then slaves in Egypt symbolising that we were slaves to sin and to Satan. Jesus Christ has led us out of the slavery of sin and gave us the Holy Spirit to guide and teach us to live the Christ life.
2. What God said came to pass
The Bible says, "Now it was told the king of Egypt that the people had fled, and the heart of Pharaoh and his servants was turned against the people; and they said, "Why have we done this, that we have let Israel go from serving us?" So he made ready his chariot and took his people with him. Also, he took six hundred choice chariots, and all the chariots of Egypt with captains over every one of them. And the Lord hardened the heart of Pharaoh king of Egypt, and he pursued the children of Israel; and the children of Israel went out with boldness. So the Egyptians pursued them, all the horses and chariots of Pharaoh, his horsemen and his army, and overtook them camping by the sea beside Pi Hahiroth, before Baal Zephon. And when Pharaoh drew near, the children of Israel lifted their eyes, and behold, the Egyptians marched after them. So they were very afraid, and the children of Israel cried out to the Lord" (Exodus 14:5-10). The children of Israel went out of Egypt with boldness but soon became afraid. At this point, faith was needed. If we want to see great things happen, we must allow God to put us in some pressing positions. God challenges our faith.
3. When faith is absent, fear prevails and hinders the walk of faith
The Bible says, "And when Pharaoh drew near, the children of Israel lifted their eyes, and behold, the Egyptians marched after them. So they were very afraid, and the children of Israel cried out to the Lord. Then they said to Moses, "Because there were no graves in Egypt, have you taken us away to die in the wilderness? Why have you so dealt with us, to bring us up out of Egypt? Is this not the word that we told you in Egypt, saying, 'Let us alone that we may serve the Egyptians'? For it would have been better for us to serve the Egyptians than that we should die in the wilderness" (Exodus 14:10-12). When we do not have faith, we are fearful. Fear makes us critical. The Israelites criticised Moses and were sarcastic and judgmental.
4. Faith speaks
Moses said, "Do not be afraid. Stand still, and see the salvation of the Lord, which He will accomplish for you today. For the Egyptians whom you see today, you shall see no more forever" (Exodus 14:13). Faith and fear cannot coexist. Choose to speak faith. The substance of faith is God's word. The Bible says, "Heaven and earth will pass away but My Word shall remain" (Matthew 24:35).
5. Faith brings God into our battle
The Bible says, "The Lord will fight for you, and you shall hold your peace" (Exodus 14:14).
6. Faith acts
The Lord said to Moses, "Why do you cry to Me? Tell the children of Israel to go forward" (Exodus 14:15). Faith is progressive. Obey God, acknowledge Him in your obedience and move forward. God will do powerful things in your life when you walk by faith. The Bible says, "So the Lord saved Israel that day out of the hand of the Egyptians, and Israel saw the great work which the Lord had done in Egypt; so the people feared the Lord, and believed the Lord and His servant Moses" (Exodus 14:30-31). The greatness of God will be our declaration when we walk by faith in the Lord. We will see the many great things God will do and accomplish through us. Faith gives us vision and hope. It helps us see possibilities. Choose faith and walk by faith today!
This article is a chapter taken from the book, "Rising Above the Storms of Life: Faith that Overcomes!" by Senior Pastor Prince Guneratnam
All Scripture references are taken from the New King James Version (NKJV)
---
PERJALANAN IMAN
Oleh Pendita Kanan Prince Guneratnam
Orang ingin melihat mukjizat tetapi mukjizat tidak akan terjadi sekiranya kita tidak berjalan di dalam iman. Musuh terbesar kita bukanlah syaitan sebaliknya orang yang kita lihat di dalam cermin. Rasul Paulus mendapati bahawa dirinya sendiri adalah halangan terbesar. Dia berkata, "namun aku hidup, tetapi bukan lagi aku sendiri yang hidup, melainkan Kristus yang hidup di dalam aku. Dan hidupku yang ku hidupi sekarang di dalam daging, adalah hidup oleh iman dalam Anak Tuhan yang telah mengasihi aku dan menyerahkan diri-Nya untuk aku" (Galatia 2:20). Apabila kita menjalani kehidupan "Kristus di dalam ku", kita boleh mengharapkan mukjizat untuk terjadi.
Berjalan di dalam iman bererti menjalani kehidupan bersama Tuhan. Satu-satunya cara kita dapat menjalani kehidupan Kristus adalah melalui pemerkasaaan dan pengurapan Roh Kudus. Mentaati adalah perbuatan iman manakala ketidaktaatan membawa kepada kutukan. Tanpa iman, kamu tidak dapat mempercayai Tuhan atau mentaati Dia. Alkitab berkata, "Tetapi tanpa iman tidak mungkin orang berkenan kepada Tuhan. Sebab barangsiapa berpaling kepada Tuhan, ia harus percaya bahwa Tuhan ada, dan bahwa Tuhan memberi upah kepada orang yang sungguh-sungguh mencari Dia" (Ibrani 11:6). Tanpa iman, melakukan perkara benar hanyalah perbuatan agama. Nabi Yesaya berkata, "Demikianlah kami sekalian seperti seorang najis dan segala kesalehan kami seperti kain kotor" (Yesaya 64:6).
Kita dapat mempelajari banyak mengenai berjalan di dalam iman dari kejadian di dalam Keluaran 14, iaitu mengenai pembebasan umat Tuhan, yakni orang Israel daripada orang Mesir.
1. Tuhan berbicara kepada Musa
Berfirmanlah Tuhan kepada Musa, demikian: "Katakanlah kepada orang Israel, supaya mereka balik kembali dan berkemah di depan Pi-Hahirot, antara Migdol dan laut; tepat di depan Baal-Zefon berkemahlah kamu, di tepi laut. Maka Firaun akan berkata tentang orang Israel: Mereka telah sesat di negeri ini, padang gurun telah mengurung mereka. Aku akan mengeraskan hati Firaun, sehingga ia mengejar mereka. Dan terhadap Firaun dan seluruh pasukannya Aku akan menyatakan kemuliaan-Ku, sehingga orang Mesir mengetahui, bahwa Akulah Tuhan." Lalu mereka berbuat demikian" (Keluaran 14:1-4). Tuhan adalah penghubung. Dia menyatakan diri-Nya and Dia akan menunjukkan diri-Nya kepada kita sekiranya kita sungguh-sungguh mencari Dia. Tuhan selalu mengguna-pakai individu-individu. Dia memilih Musa dan memanggilnya untuk membebaskan orang Israel daripada orang Mesir. Apabila mereka meninggalkan Mesir, tanah yang mengikat mereka, mereka dipimpin oleh tiang api pada waktu malam dan tiang awan pada waktu siang. Ini merupakan simbol bahwa Tuhan memimpin mereka melalui belantara. Orang Yahudi dahulunya hamba kepada orang Mesir, melambangkan bahawa kita juga hamba kepada dosa and Setan. Yesus Kristus telah memimpin kita keluar dari penghambaan dosa and memberikan kita Roh Kudus untuk membimbing dan mengajar kita untuk menjalani kehidupan Kristus.
2. Apa yang Tuhan katakan telah terjadi
Alkitab berkata, "Ketika diberitahukan kepada raja Mesir, bahwa bangsa itu telah lari, maka berubahlah hati Firaun dan pegawai-pegawainya terhadap bangsa itu, dan berkatalah mereka: "Apakah yang telah kita perbuat ini, bahwa kita membiarkan orang Israel pergi dari perbudakan kita?" Kemudian ia memasang keretanya dan membawa rakyatnya serta. Ia membawa enam ratus kereta yang terpilih, ya, segala kereta Mesir, masing-masing lengkap dengan perwiranya. Demikianlah Tuhan mengeraskan hati Firaun, raja Mesir itu, sehingga ia mengejar orang Israel. Tetapi orang Israel berjalan terus dipimpin oleh tangan yang dinaikkan. Adapun orang Mesir, segala kuda dan kereta Firaun, orang-orang berkuda dan pasukannya, mengejar mereka dan mencapai mereka pada waktu mereka berkemah di tepi laut, dekat Pi-Hahirot di depan Baal-Zefon. Ketika Firaun telah dekat, orang Israel menoleh, maka tampaklah orang Mesir bergerak menyusul mereka. Lalu sangat ketakutanlah orang Israel dan mereka berseru-seru kepada Tuhan," (Keluaran 14:5-10). Bani Israel keluar dari Mesir dengan keberanian tetapi segera menjadi takut. Pada masa ini, iman diperlukan. Sekiranya kita ingin melihat perkara besar terjadi, kita harus membenarkan Tuhan meletakkan kita di dalam situasi yang tertekan supaya dapat mencabar iman kita.
3. Tanpa iman, ketakutan akan wujud dan menghindari kita dari berjalan di dalam iman
Alkitab berkata, Ketika Firaun telah dekat, orang Israel menoleh, maka tampaklah orang Mesir bergerak menyusul mereka. Lalu sangat ketakutanlah orang Israel dan mereka berseru-seru kepada Tuhan, dan mereka berkata kepada Musa: "Apakah karena tidak ada kuburan di Mesir, maka engkau membawa kami untuk mati di padang gurun ini? Apakah yang kauperbuat ini terhadap kami dengan membawa kami keluar dari Mesir? Bukankah ini telah kami katakan kepadamu di Mesir: Janganlah mengganggu kami dan biarlah kami bekerja pada orang Mesir. Sebab lebih baik bagi kami untuk bekerja pada orang Mesir dari pada mati di padang gurun ini" (Keluaran 14:10-12). Apabila kita tidak mempunyai iman, kita menjadi takut. Ketakutan menjadikan kita kritikal. Orang Israel mengkritik Musa, menyindir dan menghakimi dia.
4. Iman berbicara
Tetapi berkatalah Musa kepada bangsa itu: "Janganlah takut, berdirilah tetap dan lihatlah keselamatan dari Tuhan, yang akan diberikan-Nya hari ini kepadamu; sebab orang Mesir yang kamu lihat hari ini, tidak akan kamu lihat lagi untuk selama-lamanya" (Keluaran 14:13). Iman dan ketakutan tidak dapat wujud bersama. Pilih untuk menyatakan iman. Bahan iman adalah firman Tuhan. Alkitab berkata, "Langit dan bumi akan berlalu, tetapi perkataan-Ku tidak akan berlalu" (Matius 24:35).
5. Iman membawa Tuhan masuk ke dalam peperangan kita
Alkitab berkata, "Tuhan akan berperang untuk kamu, dan kamu akan diam saja" (Keluaran 14:14).
6. Iman bertindak
Berfirmanlah Tuhan kepada Musa: "Mengapakah engkau berseru-seru demikian kepada-Ku? Katakanlah kepada orang Israel, supaya mereka berangkat" (Keluaran 14:15). Iman itu bertumbuh. Taat kepada Tuhan, mengakui Dia di dalam kataatan kamu dan maju ke hadapan. Tuhan akan melakukan perkara hebat di dalam kehidupan kamu apabila kamu berjalan di dalam iman. Alkitab berkata, "Demikianlah pada hari itu Tuhan menyelamatkan orang Israel dari tangan orang Mesir. Dan orang Israel melihat betapa besarnya perbuatan yang dilakukan Tuhan terhadap orang Mesir, maka takutlah bangsa itu kepada Tuhan dan mereka percaya kepada Tuhan dan kepada Musa, hamba-Nya itu" (Keluaran 14:30-31). Kebesaran Tuhan akan menjadi pengisytiharaan kita ketika kita berjalan dengan iman dalam Tuhan. Kita akan melihat banyak perkara besar yang akan Tuhan lakukan dan capai melalui kita. Iman memberi kita penglihatan dan harapan. Ini membantu kita melihat segala kemungkinan. Pilih iman dan berjalan dalam iman hari ini!
Artikel ini adalah bab yang diambil dari buku, "Bangkit di Atas Ribut Kehidupan: Iman yang Mengatasi!" oleh Pendita Kanan Prince Guneratnam
Semua rujukan Alkitab adalah dari Alkitab Bahasa Indonesia.
---
凭信而活
文:古纳南主任牧师
人们想看见神迹,但若不凭着信心而活,神迹不会发生。我们最大的敌人不是撒旦,而是镜中的自己。使徒保罗发现自己才是最大的障碍。他说:"我已经与基督同钉十字架;现在活着的,不再是我,而是基督活在我里面;如今在肉身中活着的我,是因信 神的儿子而活的;他爱我,为我舍己。"(加拉太书 2:20)当我们让基督活在我里面时,神迹就会发生。
凭信而活就是与神一起生活。只有让圣灵充满,借着圣灵的大能,我们才能活在基督里。顺服是信心的表现,不顺服则将引致咒诅。没有信,就无法信靠神,也不能顺服他。圣经上说:"没有信,就不能得到 神的喜悦;因为来到 神面前的人,必须信 神存在,并且信他会赏赐那些寻求他的人。"(希伯来书 11:6)没有信,我们只是借着宗教行善。先知以赛亚说:"我们众人都像不洁净的人,我们所有的义,都像污秽的衣服。"(以赛亚书 64:6)
出埃及记14章记载了神从埃及人手中拯救他的子民以色列人。让我们透过该经文学习如何借着信心与神同行。
1. 神对摩西说
圣经记载了耶和华告诉摩西说:"你要吩咐以色列人转回过来,在比哈希录前,密夺和海之间安营;你们要在巴力洗分前,对着巴力洗分,靠近海边的地方安营。法老必论到以色列人的事,说:'他们在这地走迷了路,旷野把他们困住了。'我要使法老的心刚硬,他就必追赶他们;这样,我就可以在法老身上和他的全军身上得到荣耀,埃及人就必知道我是耶和华。"于是以色列人就这样行了。(出埃及记 14:1-4)神与人说话——若我们认真寻求他,他就显现让我们寻见。神使用人——他拣选摩西,叫他带领以色列人脱离埃及。他们离开为奴之地埃及时,白天有云柱夜晚有火柱在前面引导他们。这些是神带领他们穿越旷野的象征。犹太人曾经被埃及人奴役,象征着我们也曾经是罪恶和撒旦的奴隶。耶稣基督救我们脱离罪的奴役,赐给我们保惠师圣灵,教导我们过基督的生活。
2. 神的话成就了
圣经记载,有人告诉埃及王说:"以色列人逃走了。"法老和他的臣仆对以色列人的心就改变了,他们说:"我们让以色列人离开,不再服事我们,我们作了甚么事呢?"法老就预备他的马车,带着他的人民一同去,并且带着六百辆特选的马车和埃及所有的马车,每辆马车上都有马车长。耶和华使埃及王法老的心刚硬,法老就追赶以色列人;因为以色列人是靠着耶和华高举的手出来的。埃及人追赶他们,法老所有的马匹、战车和他的马兵与军队,就在海边,靠近比哈希录,对着巴力洗分他们安营的地方追上了他们。法老走近的时候,以色列人举目观看,看见埃及人正追赶过来,就非常惧怕,向耶和华呼求。(出埃及记 14:5-10)以色列人大胆地离开了埃及,但不久后他们就惊慌害怕了。这时候,他们须要信靠神。如果我们想看到神行神迹,就要接受神让我们面对困难。神在挑战我们的信心。
3. 缺乏信心将产生恐惧,同时阻挡了凭信而活
圣经记载,法老走近的时候,以色列人举目观看,看见埃及人正追赶过来,就非常惧怕,向耶和华呼求。他们对摩西说:"难道埃及没有坟墓,你要把我们带来死在旷野吗?你为甚么这样待我们,把我们从埃及领出来呢?我们在埃及的时候,不是对你说过:'不要管我们,我们要服事埃及人'这话吗?因为服事埃及人比死在旷野还好。"(出埃及记 14:10-12)缺乏信心让人产生恐惧,恐惧让人开始埋怨。以色列人埋怨并怪罪摩西。
4. 凭信心说话
摩西对人民说:"不要惧怕,要站着,观看耶和华今天为你们施行的拯救;因为你们今天看见的埃及人,必永远不再看见了。(出埃及记 14:13)信心和恐惧不能并存。所以,当凭信心说话,而信心来自于神的话。圣经记载:"天地都要过去,但我的话决不会废去。"(马太福音 24:35)
5. 信心让神为我们争战
圣经上说:"耶和华必为你们争战,你们必须安静,不要作声。"(出埃及记 14:14)
6. 凭信心行事
耶和华对摩西说:"你为甚么向我呼求呢?吩咐以色列人往前走。(出埃及记 14:15)信心是渐进的。服从神,认定神,并继续前进。当你在生活中凭信心行事,神会行奇妙的事。圣经记载:"这样,耶和华就在那一天把以色列人从埃及人的手里拯救了出来;以色列人看见埃及人都死在海边。以色列人看见耶和华向埃及人所显大能的手,就敬畏耶和华,又信服耶和华和他的仆人摩西。"(出埃及记 14:30-31)当我们凭着对神的信心行事时,我们便是在宣告神的大能,神必透过我们行奇妙大事。信心让我们看见异象与盼望。今天就选择凭信心行事!
文章取自主任牧师一书《克服生命风暴:凭信心超越》
经文摘自新译本圣经